Health Insurance opt-out process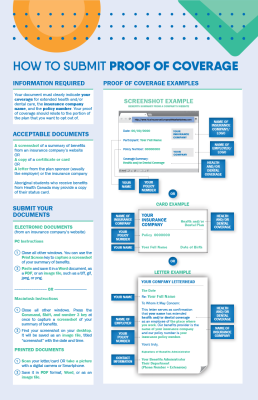 Effective Fall 2022, all students are automatically enrolled in the GSA health insurance plan. If you already have insurance, you may wish to opt-out. The Change of Coverage time period is from Tuesday, September 6 – Friday, September 30.
There are two steps to the opt-out process:
1) Initiate your opt-out online. Visit studentcare.ca/coveragemanager during the September Change-of-Coverage period. Follow the on-screen instructions for opting out. You'll need your student ID number and your date of birth. Opting out online ensures quick processing and allows you to receive an instant confirmation of your opt-out.
Please note: The Opt-Out section will only be active during the Change-of-Coverage Period, from Sept. 6 – 30.
2) Submit your proof of coverage. To complete your opt out (for the first time you opt-out, or if you didn't opt-out last year), you'll need to provide proof that you're covered by an equivalent extended health and/or dental plan.
If you have proof available in electronic format, you can upload it directly to your profile to expedite your opt-out process. If you don't have your proof of coverage on hand, you can return and upload your proof of coverage later as long as you do so before the end of the Change-of-Coverage Period.
Your provincial health care doesn't provide coverage equivalent to the GSA Health & Dental Plan. Students can't opt out if they're covered only by OHIP or equivalent primary health-care coverage.