Soulstuff: An Introduction to Open Circle | Sept 30
extracurricular
| September 23, 2020
Submitted by
Hardil Bhatt
for Student Open Circles
Important Notice
For the latest information and updates about McMaster's response to COVID-19 (coronavirus) please visit the McMaster COVID-19 site.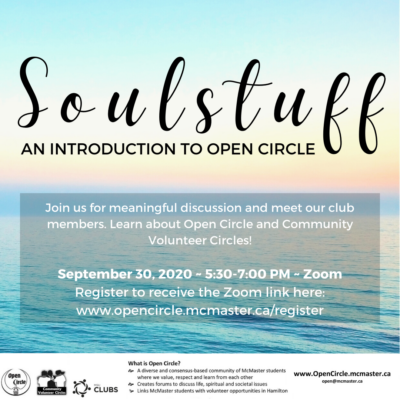 Interested in learning more about Open Circle? Join this fun taster event, where you can experience all that Open Circle offers to McMaster students! Sample their Reflection Circles, hear about other people's experiences and learn about how to get involved in the Hamilton community through Community Volunteer Circle's weekly volunteer groups. Discussion, meditation, creative expression and more await you.
Event Details:
Date: Wednesday, September 30
Time: 5:30-7:00 p.m.
Register here to receive the link.