Sign up for the Stock Pitch Competition | August 7 & 19
career
| July 23, 2020
Submitted by
Lisa Keenan
for Career & Professional Development
Important Notice
For the latest information and updates about McMaster's response to COVID-19 (coronavirus) please visit the McMaster COVID-19 site.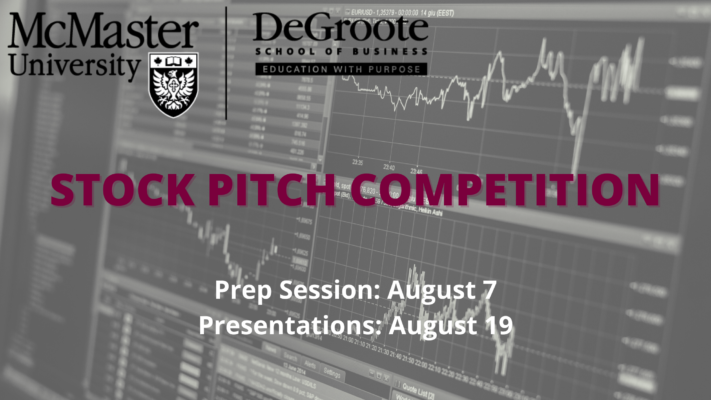 This year, CPD is proud to work with The Marquee Group on hosting a Stock Pitch Competition, a two-part event that allows participants to gain market knowledge and practice.
How it works: 
1. Stock Pitch Prep | Friday, August 7 | 9:30-11:30 a.m.  
Marquee will review different valuation techniques and distribute a short "Assignment Sheet" that provides guidance on what should be included in a stock pitch.
Groups of 3-4 students will be allowed to pick their own company to pitch within the selected industry shared at the Prep session.
Groups need to advise CPD which company they have selected by Tuesday, August 11 at 5:00 pm.
2. Stock Pitch Competition, August 19 | Morning | 30-min presentation
Groups will walk through their slide deck which will cover their analysis, followed by Q&A, and feedback by judges,
Registration:
This competition is s open to all DeGroote students.
Please register as a group on OSCARplus by no later than Tuesday, August 4 at 11:55 p.m.
Please note that there is a maximum of 10 groups for this competition. If registration is full, a waitlist will be created.
For questions, please reach out to your respective Relationship Manager:
Brooke Russell, BCom: mccoubrb@mcmaster.ca
Lisa Keenan, MBA:  keenanl@mcmaster.ca
Megan Donohue, MFin: donohuem@mcmaster.ca