Success: What It Truly Means To You | Mar. 12
extracurricular
| March 3, 2021
Submitted by
Hardil Bhatt
for Student Open Circles
Important Notice
For the latest information and updates about McMaster's response to COVID-19 (coronavirus) please visit the McMaster COVID-19 site.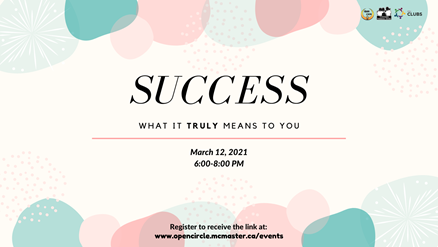 Join us to explore enoughness, validation, and success with a supportive and caring community. Hear from panelists who will share their personal journeys with the word "success" and create a unique vision board to support you in navigating these themes and form your own definition of success.
This event is an invitation to reflect on different definitions of success, feeling validated, and knowing you are enough and worthy.
Event details:
Friday, March 12
6 -8 p.m. (EST)
Panelists:
Karen Trollope-Kumar, family physician, co-founder of Body Brave
Ralph Brubacher, spiritual companion, instructor for Jubilee Program of Soulful Living and Spiritual Direction, retired elementary and secondary teacher
Kala Grant, OC alumni, customer success manager at eSSENTIAL Accessibility
Register on Open Circle's website.