Ten Thousand Coffees Panel: Entrepreneurship vs. Job Security | July 15
Important Notice
For the latest information and updates about McMaster's response to COVID-19 (coronavirus) please visit the McMaster COVID-19 site.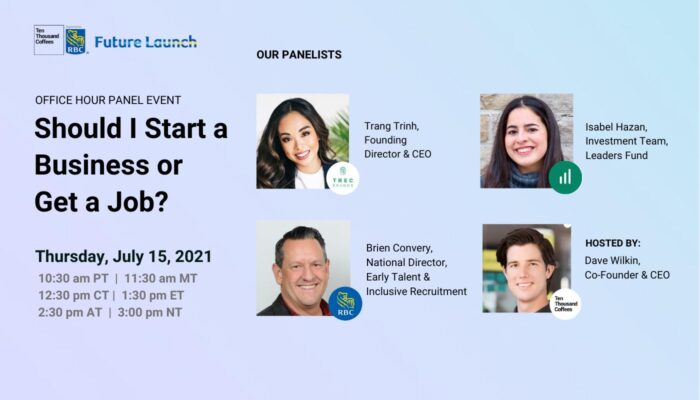 At one point or another, many of us have debated starting our own business or accepting a job offer. This panel event will give you perspectives from both sides of the coin.
Dave Wilkin, an entrepreneur and CEO of Ten Thousand Coffees, will host three esteemed guests: an entrepreneur, a venture capitalist and an early career leader for their take on a question they've often had to answer: should I start a business or get a job?
If you're still navigating your next steps as a fresh graduate or if you've ever thought about starting your own business but didn't know if it was the right move, this is the event for you!
Event Details:
Bring your questions and get ready for a fun panel discussion!