Transforming Your Passion Into Your Profession | August 20
career
| August 12, 2020
Submitted by
Hannah Tambor
for CPD Office
Important Notice
For the latest information and updates about McMaster's response to COVID-19 (coronavirus) please visit the McMaster COVID-19 site.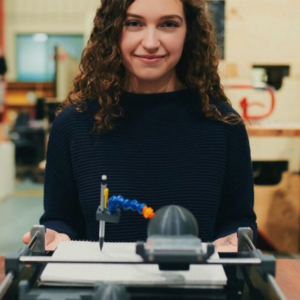 Join us to learn about how Lianna Genovese transformed her first-year project at McMaster University into the successful Startup company called ImaginAble Solutions. Lianna will share her experience as a woman in biomedical and mechanical engineering, as well as a young female entrepreneur. She will highlight how she used her passion, drive and a bit of luck to overcome many obstacles and achieve her dreams.
Lianna is the CEO & Founder of ImaginAble Solutions and the inventor of the company's international award-winning product Guided Hands™. ImaginAble Solutions creates assistive devices for people living with impaired motor control to improve their quality of life during everyday activities. The company's lead product, Guided Hands™ is an assistive device that enables people with limited fine motor skills to write, draw, and paint as well as type and scroll on a tablet or a computer.
Event Details
Date: Thursday, August 20
Time: 6 p.m. (EDT)
Location: Zoom
Register here to reserve your spot to this inspiring talk!
Visit the Imaginable Solutions website to learn more about how Guided Hands™ gives individuals back their freedom of expression and enables them to live the life they had always imagined!