Volunteer in the Hamilton community!
extracurricular
| September 14, 2022
Submitted by
Shunmathi Shanmugam
for Community Volunteer Circles (CVC), Student Open Circles (SOC)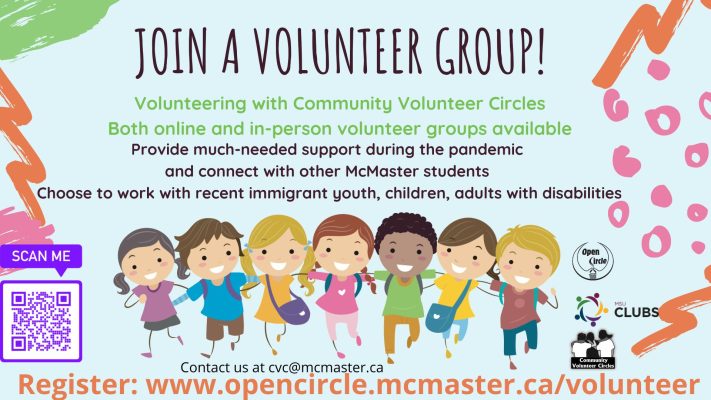 Volunteer weekly with youth, children, or adults in the Hamilton community!
Learn about and sign up for one of our 14 weekly volunteer groups with Community Volunteer Circles (CVC). Choose to work with recent immigrant youth, children, adults with disabilities, or at risk youth with many placements in-person and some online. See what we have to offer, sign up for a group, meet the CVC facilitators!
Download your volunteer contract and registration form and find more info about available groups at www.OpenCircle.mcmaster.ca/volunteer
Community Volunteer Action (CVC) is sponsored by MSU Open Circle and is a working group of OPIRG, McMaster. A chance to volunteer weekly with other McMaster students at placements across Hamilton, and to reflect for 15 min. after each volunteer session on your experiences and how these relate to larger societal issues.