VP Sponsorship Opportunity with DeltaHacks
Important Notice
For the latest information and updates about McMaster's response to COVID-19 (coronavirus) please visit the McMaster COVID-19 site.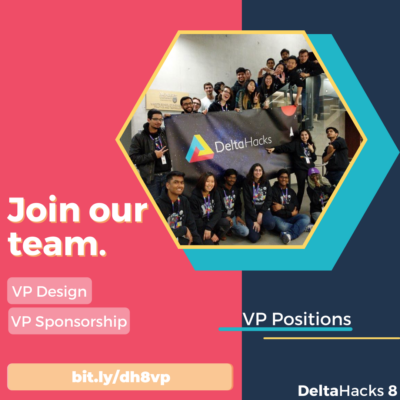 Looking for exposure to companies like Microsoft, KPMG, RBC, and TD Bank? How about the opportunity to develop your networking and pitching skills?
Our team, DeltaHacks, is focused on bringing the greatest possible experience for over 800 attendees and sponsors. Our event in January brings hundreds of students from all across the globe together to build amazing projects within 36 hours. If you're interested in connecting with company representatives or are interested in technology, this position is perfect for you! Details about the role are listed below.
Pitch, make sales, build company relations, and raise thousands of funds for our annual hackathon
Work on building relationships and networking with our sponsors, be exposed to companies like Microsoft, KPMG, RBC, Hatch, and TD Bank
Advertise our hackathon to company representatives to raise thousands of dollars in funds for our annual event
The ability to pitch and communicate with business executives is an asset
Apply now! Details about our event can be found on our website.