Weekly TD Virtual Campus Ambassador Coffee Chats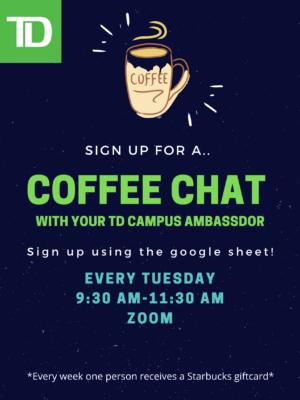 Come join your TD Campus Ambassador for a coffee chat every Tuesday to learn more about upcoming internship and associate opportunities. This is a great opportunity to learn more about TD and tips for the application process.
Event details:
Every Tuesday
9:30 – 11:30 a.m. (EDT)
You will be able to speak one-on-one with a TD Campus Ambassador who can answer any questions you may have and give you a headstart to recruitment for your next internship.
Register for an upcoming Tuesday on the registration Google sheet.