A Master of Finance Alumna Helping Other Women Become Financially Empowered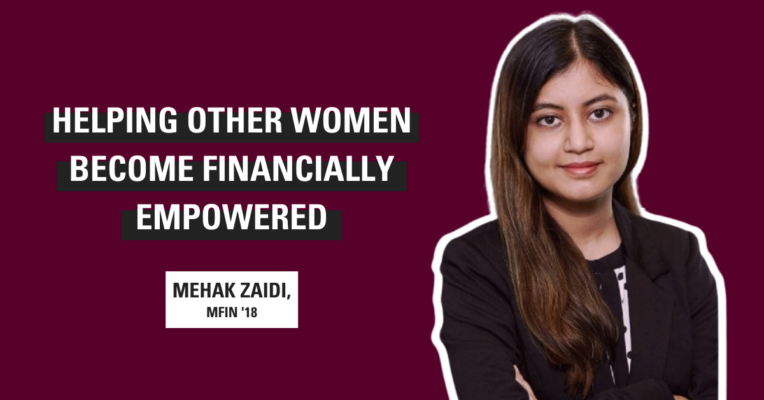 Mehak Zaidi, Master of Finance (MFin) grad from the DeGroote School of Business, is an advocate for women understanding personal finance. For her, financial literacy is about empowerment. She's doing what she can do to disseminate her knowledge.
Originally from Pakistan, Zaidi chose to come to Canada to study and stay in this country to work. Coming directly from an undergraduate degree in her home country, she wanted a master's program that didn't require work experience and offered a chance to gain experience while studying. McMaster's 16-month MFin program fit the bill perfectly.
"I was always good with numbers and knew I liked analysis and the markets. My dad is a professor and encouraged me to get a master's degree before I entered the workforce and got really busy. The MFin program at DSB helped me understand the various finance fields and focused on quantitative analysis. I received a leadership scholarship for my second year. I was also able to work at RBC and gain experience while pursuing my degree. It was motivating and gave me the confidence I needed going out into the workforce full-time."
Post Graduation
After graduating, Zaidi joined S&P Global Ratings. Here, she analyzes the performance of various companies and provides ratings and reviews to investors. "My work is focused on the healthcare sector so it's a really interesting portfolio right now. I talk with a lot of companies in the sector and have gotten a good look at how the pandemic has affected them – both positively and negatively. It's an interesting job and holds a lot of responsibility – investors rely on our quick analysis."
Zaidi says the company is diverse and she's never felt out of place as a woman in the industry. Coming from Pakistan, she sees that many women struggle with financial literacy. This holds them back from having control over their own lives. "In Pakistan, not a lot of women have money in hand. They rely on their partner to make decisions about spending and saving. Even in Canada, 'investments' is a term that can be scary to women – or anyone that hasn't learned about finance.
Financial literacy is a big step toward empowerment for anyone – male or female. Because I work in finance, I feel like I have a responsibility to those who need help, so they don't have to rely on others for financial freedom and power."

---
Zaidi has done some writing on the subject. One of her insights is simple but often overlooked: "Remember the spending rule of 'staying within your means' to save yourself from mental stress. After all, tomorrow's realities depend on today's decisions." 
Although she's busy with a burgeoning career and studying for her CFA Level 3 exams, Zaidi also takes the time to talk to those around her that need help. "Just talking someone through budgeting and small ways to gain control of spending can be a huge help. It's important for me to disseminate knowledge."