Aadil Merali receives Dr. S. J. Basu Teaching Award
March 19, 2021
|
Contributed by Rebecca Hull, Marketing and Communications Strategist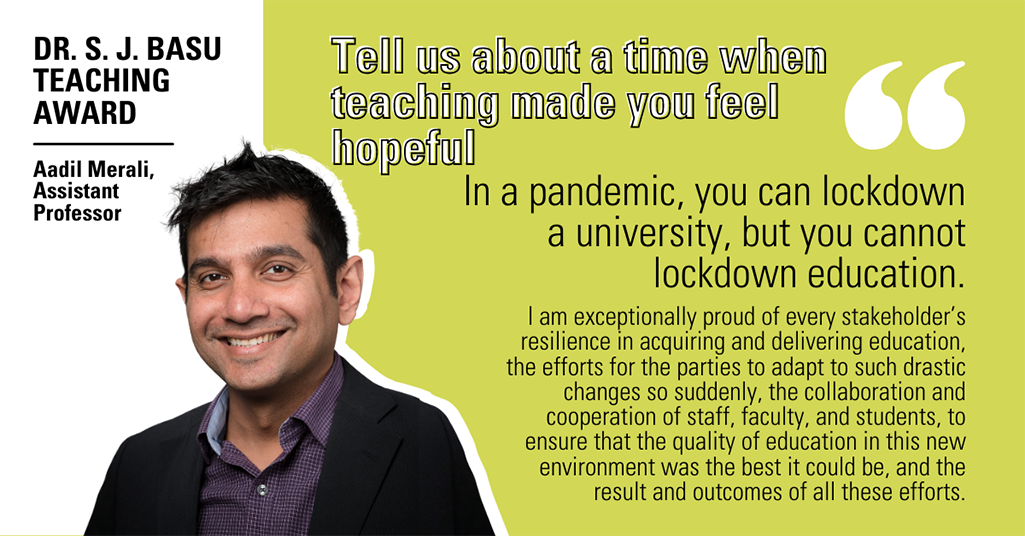 Congratulations to assistant professor Aadil Merali, on being one of this year's recipients of the student facilitated Dr. S. J. Basu Teaching Award for professors teaching in the MBA Program.
Learn more about Aadil's approach in the classroom by reading below.
What does receiving this award mean to you?
First and foremost, I thank the students for their generosity in their remarks and for this prestigious award. The Dr. S. J. Basu Teaching Award will mark a momentous occasion in my teaching career and will constantly remind me to uphold the high standards in teaching excellence that are expected from DeGroote and McMaster. The award reflects my deep respect for teaching and learning at DeGroote and our beloved students, faculty, and staff.
What is your teaching philosophy? How does it influence your approach in the classroom?
My teaching philosophy has always been student-centric pedagogy. Having researched extensively on learning habits, I use an approach of integrated learning with the objective of balancing strong analytical skills with application, and a reasonable expectation of self-learning. At the same time, I willingly offer help to those who would benefit from it.
My approach to encouraging comprehensive learning and application is through a variety of tools comprising of team work, individual assignments, tests, quizzes, field learning, in-class activities via student-response systems and group activities, and exams. I pay special attention the time commitments each student has so as not to overload them while not shying away from challenging them.
It is my conviction that academic research combined with industry experience and equipped pedagogy forms a strong foundation for the learner. In order to enable such delivery, I regularly engage in consuming research by attending relevant academic research conferences and symposiums and participate in teaching and learning workshops hosted by MacPherson Institute.
Tell us about a time when teaching made you feel hopeful.
There are lots of such occasions when teaching made me feel hopeful. In fact, I doubt that there was ever a moment in my teaching career when I have felt otherwise.
I can tell you that the most recent time has been during the pandemic. All students and teachers, from elementary to post secondary, had to adapt to new learning environments, suddenly. There was no time for gradual "change management." It was instantaneous. There were lots of challenges, but there was hope, confidence that it will work – it had to work. In a pandemic, you can lockdown a university, but you cannot lockdown education. I am exceptionally proud of every stakeholder's resilience in acquiring and delivering education, the efforts for the parties to adapt to such drastic changes so suddenly, the collaboration and cooperation of staff, faculty, and students, to ensure that the quality of education in this new environment was the best it could be, and the result and outcomes of all these efforts. It makes me hopeful that our educational institutions will build resilient capacities in the years ahead.
---
Sanjoy Joe Basu taught accounting at the School of Business. He passed away in January 1983 at the age of 37. The Basu Teaching Award aims to foster the type of teaching excellence achieved by Dr. Basu. Friends, colleagues and accounting organizations also established the Basu Medal, which is awarded to a graduating student who has displayed outstanding achievement in accounting.