Five alumni benefits you should be taking advantage of at DeGroote
July 7, 2020
| Hamilton, Ontario
Contributed by Rebecca Hull, Marketing and Communications Strategist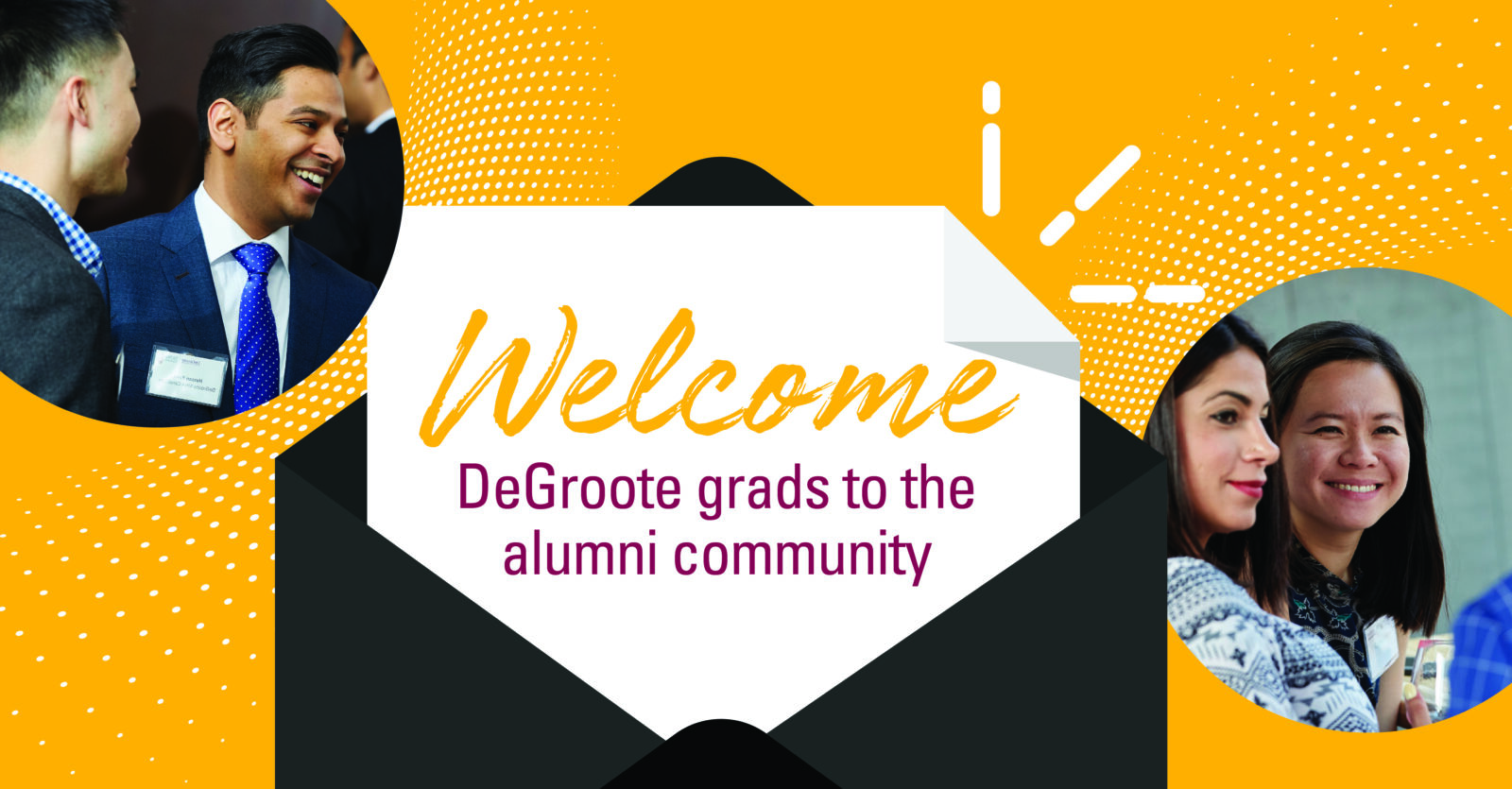 Welcome to your DeGroote Alumni & Friends community – a diverse network of individuals, leaders and change-makers who are making an impact in the world of business and beyond. Get to know some of your fellow alumni here.
Explore the many ways you can enhance your personal and professional development with an alumni network over 23,000 strong. Connect, share news, find/become a mentor, learn about continued career benefits, and update your calendar with upcoming alumni events.
Leverage your alumni community by taking advantage of the following benefits:
1. Build a lifelong support system.
The DeGroote School of Business community engagement team supports and develops meaningful experiences for alumni, offers opportunities for professional growth, and enriches connections through an active network of peers.
All DeGroote graduates are part of the McMaster Alumni Association, a network of more than 195,000 alumni that represent 162 countries, including Canada. McMaster's Alumni affinity partnerships offer specialized financial services and other benefits that support alumni and friends.
2. Give back to the DeGroote community.
DeGroote has an engaged, supportive alumni network of talented people who have a wealth of experience and knowledge to share. Participate at a networking event, support student-focused initiatives with a donation, or serve as a mentor – there are many ways to be involved in the DeGroote legacy.
3. Network and advance your career.
The DeGroote Women's Professional Network (DWPN) provides women with the opportunity to exchange ideas and knowledge, discuss matters impacting women, and develop connections.
Connect directly with DeGroote and professionals in the Greater Toronto and Hamilton area at the Knowledge@DeGroote speaker series. Industry experts and alumni exchange knowledge through facilitated discussions focusing on important business and societal themes.
Executive Programs at DeGroote provide progressive leaders with a suite of professional development programs for alumni.
4. Attend an in-person or virtual event.
DeGroote hosts several events throughout the year, including webinars, guest lectures, networking events, mentoring opportunities, and more. Check out our Events Calendar to see what we have coming up.
5. Stay informed.
The DeGroote Alumni newsletter, Knowledge Magazine, is emailed monthly to alumni to keep them connected to all the happenings at the DeGroote School of Business, inform them of new alumni benefits and services, and feature alumni that are transforming business and society.
Stay connected! To connect with the community engagement team, share your updates, and ask questions, email degalum@mcmaster.ca.
To ensure that you continue to receive news and event updates from DeGroote, please click here to provide your non-McMaster email address.