Commerce Program Spotlight
June 30, 2020
| Hamilton, Ontario
Contributed by Rebecca Hull, Marketing and Communications Strategist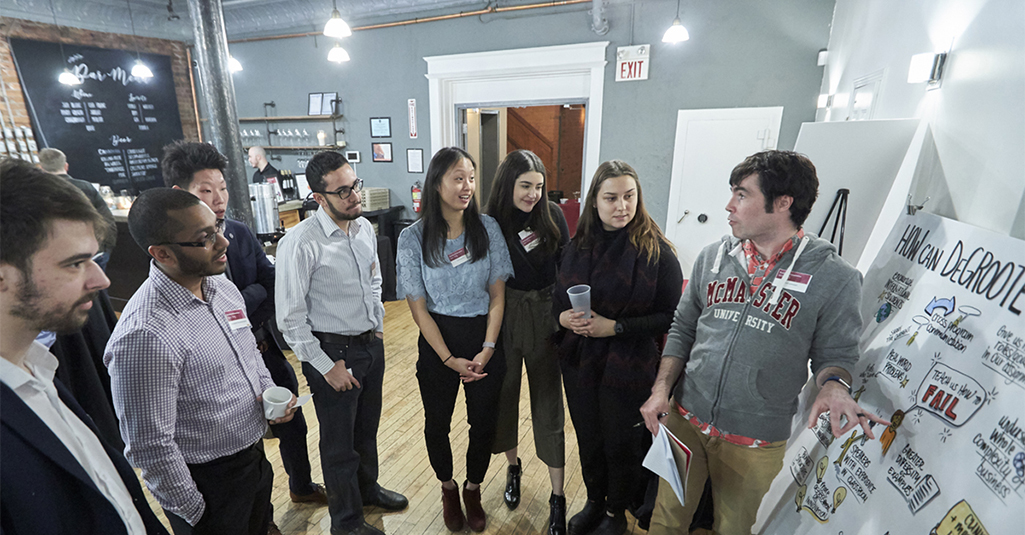 ---
DeGroote is rethinking business education. Our business impact is measured by our commitment to radically transform business and society. Our students will be the agents of transformation in the years ahead, disrupting how we do business and significantly expanding DeGroote's contributions to Canadian society.
If there's one thing we're seeing more clearly now than ever before, it's that business leaders need to be well-rounded. They need to be deep thinkers and strong collaborators – on top of having very sharp business skills," said Sue McCracken, Associate Dean, Academic. "This is what we're teaching in our BCom. Leadership that succeeds and endures no matter what."

---
Curious about what kinds of things students do in Commerce?
Our course spotlight features some of the concepts and approaches explored in the DeGroote Bachelor of Commerce program.
COMMERCE 1GR0 A/B – DeGroote Student Experience and Development

This course provides experiential activities for students to develop and apply foundational knowledge of highly sought skills in the workplace, such as critical thinking, collaboration, communication, and self-management. Further, this course offers career development tools and learning experiences that facilitate students' transition to university and success in the Business Program. Students will learn McMaster University's academic regulations, strategies for academic achievement, and the various services available to them within the university.

COMMERCE 2OC3 – Operations Management

Operations management is the science and art of creating and delivering goods and services to customers. The course will cover both manufacturing and service operations topics at the strategic, tactical, and operational levels. Topics include capacity planning, the layout of facilities, forecasting, aggregate planning, scheduling, inventory control, purchasing, supply chains, and quality control. Emphasis will also be placed on process improvement and project management. The course will look at supply chain issues related to globalization and sustainability, including environmental and social issues.

COMMERCE 3MB3 – Consumer Behaviour

The field of consumer behavior attempts to explain and predict how consumers think and behave in given situations. In this course, students survey relevant theories and apply them to real-world marketing situations. Examples are drawn from past and current business practices as well as consumers' everyday lives. The course will examine the social, ethical, regulatory, environmental, and technological influences that affect how consumers think and act.
---
COMMERCE 4BB3 – Recruitment & Selection

The primary aim of recruitment and selection in human resources management is to ensure a transparent and fair hiring process to select the right candidate based on merit and relevance. This course will provide a conceptual and operational understanding of the key aspects of human resources staffing functions, including job analysis, recruitment, assessment, selection, and performance evaluation. After this class, students can design and implement an effective and legally defensible staffing system tailored to organizational requirements.

About the Professor:

Dr. Frances Tuer received her Bachelor of Administrative and Commercial Studies and Master of Business Administration (Ivey MBA) from Western University and her Ph.D. in Organizational Behaviour and Human Resource Management from McMaster University. Her research interests include diversity/diversity management, teams, and perceptions of trustworthiness. Dr. Tuer enjoys an active classroom environment where students gain personal insights into the world of work and solve business and workplace problems using evidence-based management.

The Recruitment & Selection course

discusses current trends and practices in business while evaluating existing staffing programs in Canada. This year, the course will e

xamine diversity in the workplace, discrimination in employment, diversity training, and employment equity initiatives.

Dr. Tuer seeks diverse voices from the DeGroote alumni community to share their personal experiences of working in Canada. Please contact her at tuerfl@mcmaster.ca.