Collaboration: A Community Working Together
March 2, 2023
| Hamilton, ON
Contributed by Joanna Williams, Marketing and Communications Strategist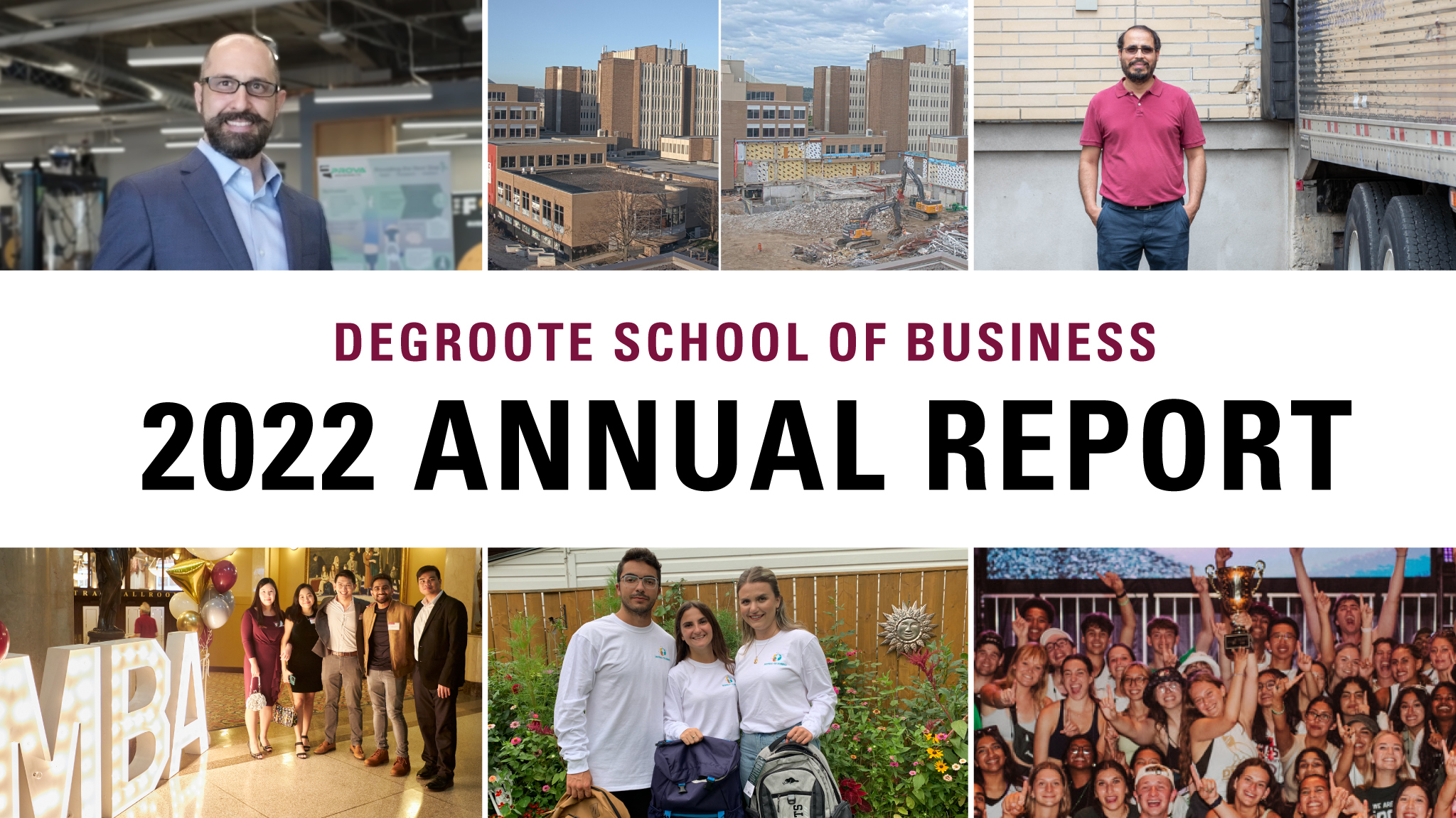 For the DeGroote School of Business, 2022 was a milestone year.
We saw construction progress, celebrated the MBA's diamond anniversary, added new faculty members, announced new partnerships, and lost our School's namesake.
It was a year marked by change – and opportunity. As we look back on the year, we celebrated student success, highlighted alumni making a difference in their communities, strengthened corporate partnerships, and recognized excellence across DeGroote's teaching and research.
The central theme of this year's Annual Report is Collaboration. What makes DeGroote special is our community and the acknowledgment that we are even stronger when we come together.
The articles featured in DeGroote's 2022 Annual Report highlight our core values of collaboration, community, inclusivity, innovation, and integrity by showcasing student, alumni and research stories that demonstrate the meaningful impact and positive change DeGroote is having in business and society.
2022 Highlights: 
Strategic Plan: The entire DeGroote community has come together to help plan for the future of DeGroote. In 2023, DeGroote will launch a new strategic plan.
Impactful Research: DeGroote scholars are addressing complex issues about communities and societies in order to build a better future for all Canadians.
McLean Centre for Collaborative Discovery: In 2022, the old building was demolished to make way for the new building. We officially transitioned from the demolition to the construction phase – meaning DeGroote is one step closer to transforming business education for the future.
MBA 60th Anniversary: In the fall DeGroote celebrated the 60th anniversary of the MBA program where faculty, students, staff, and alumni from the past six decades gathered to recognize the past, present, and future of the MBA program.
New Faculty Members: DeGroote welcomed six new faculty members as international experts and innovators who bring with them diverse expertise from numerous business and related disciplines.
Discover how the DeGroote community is collaborating in the 2022 Annual Report.