Congratulations to the Class of 2022
June 14, 2022
| Hamilton, ON
Contributed by Olivia Stankovich, Web and Marketing Specialist
Congratulations to the Class of 2022!
Today, as you graduate and join more than 23,000 DeGroote alumni and 220,000 McMaster alumni worldwide, we hope you take your strong sense of community from your time at DeGroote with you. No matter what is on the horizon for you, as you head out into the business world, we wish you well and look forward to seeing the positive mark you will make on business and society. You are the next generation of business leaders. Congratulations from everyone at the DeGroote School of Business.
Ceremony at 9:30 a.m.
Get to know your Valedictorian, Momina Qureshi, BCom '22.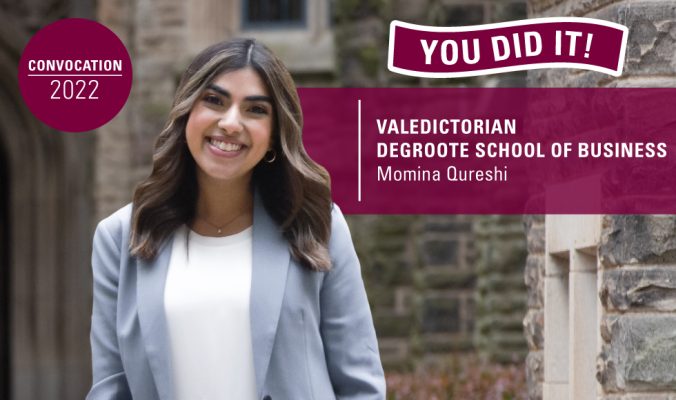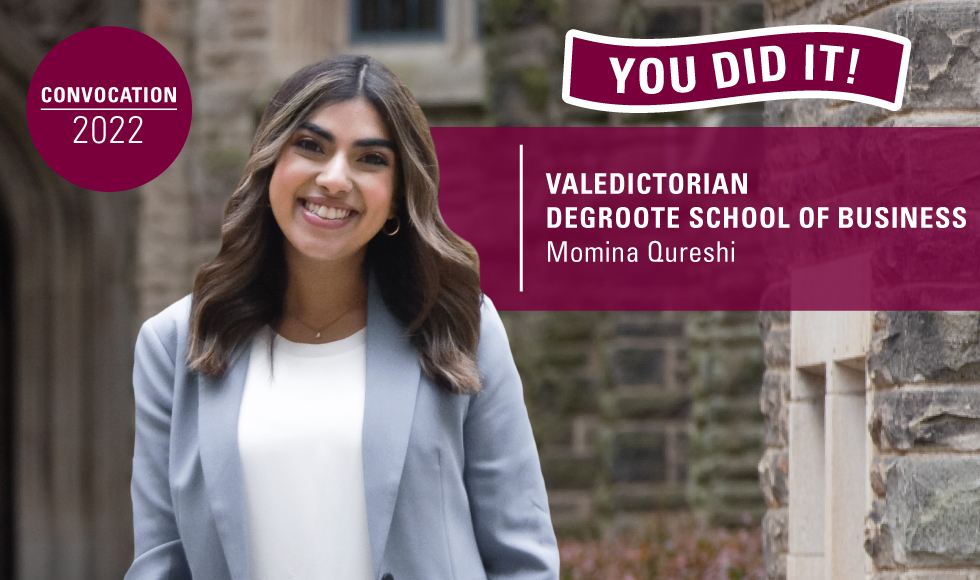 Momina is graduating from an Honours Bachelor of Commerce with an area of focus in Marketing. Being an advocate for getting involved, Momina has participated in many extra-curriculars and experiential learning opportunities such as the DeGroote Commerce Society, JDCC, Greensuits, Exchange, and the Commerce Internship Program. As a result of these incredible opportunities, her philosophy for her final year of undergrad was to pay it forward to the DeGroote experience. From leading the Greensuits team during Welcome Week to being a Teaching Assistant and giving back to the next generation of DeGroote; Momina is excited to pay it forward to her fellow peers and friends through delivering the Valedictory address. Momina would like to express her sincerest gratitude to her mentors, DeGroote faculty and staff, and dearest friends, and family, for their never-ending support throughout her undergraduate degree.
Get to know your Honorary Degree Recipient, Rola Dagher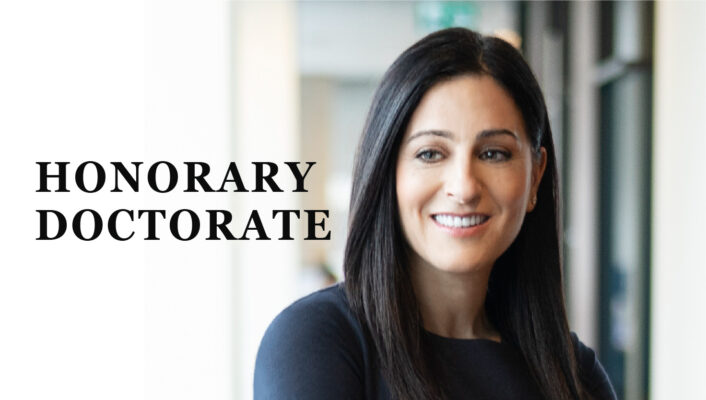 Dagher, a leading figure in the Canadian technology sector, has made it her mission to empower those around her. Immigrating to Canada from war-torn Lebanon with an infant in the 1990s, Dagher first worked as a retail salesclerk before going on to become the president of Cisco Systems Canada and Dell Technologies' Global Channel Chief – being one of only a few immigrant women to have attained such a position. She sees diversity as the foundation to building a high-performance workforce and is a vanguard of inclusive excellence. Dagher has been named a WXN Top 100 Most Powerful Women in Canada, the Women in Communications and Technology (WCT) Woman of the Year, and is a RBC Top 25 Canadian Immigrant Award winner.
Access the ceremony celebration page.
Ceremony at 2:30 p.m.
Get to know your Valedictorian, Chirag Sheth, MBA '22.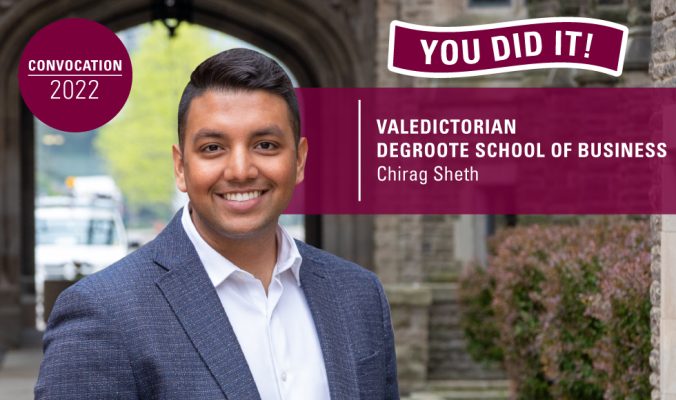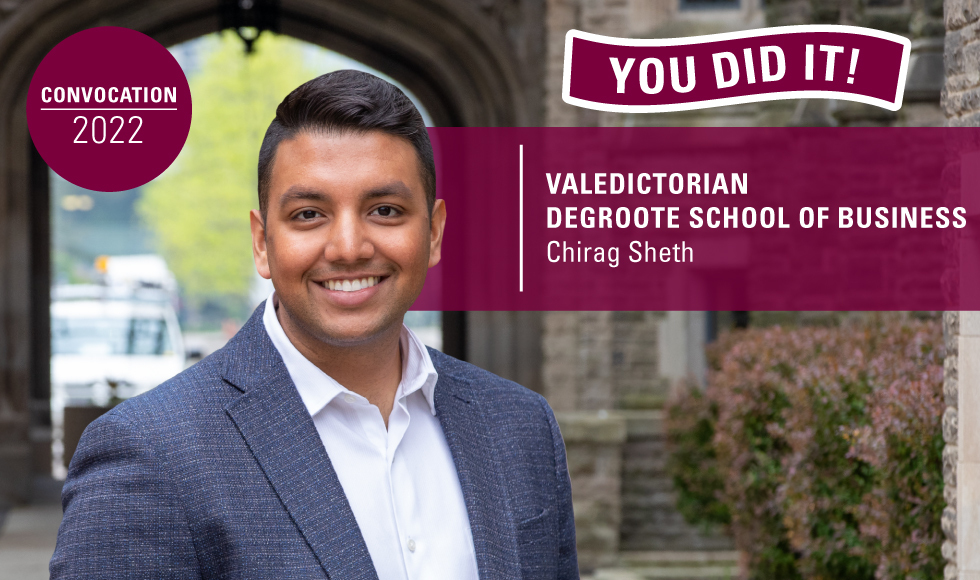 Chirag Sheth is graduating from the MBA program with the DeGroote School of Business. Chirag holds a bachelor's degree in Biology and Business from the University of Waterloo and worked for four years across the student affairs and technology industries before starting his MBA. During his two years at McMaster, Chirag immersed himself in student life, serving as President of the DeGroote MBAs for Impact club, a DeGroote Leader, and as a DeGroote Ambassador. In addition, Chirag created a podcast called 'Building Digital Community' in which he interviewed students and alumni from the MBA program to help build relationships within the program while his cohort was navigating the world of remote learning. Chirag will be joining CIBC this summer as part of their Technology Leadership Advancement Program. Chirag is extremely grateful for the support of his family and friends, as well as the faculty and staff at DeGroote throughout his MBA experience.
Get to know your Honorary Degree Recipient, Wayne Purboo, EMBA '21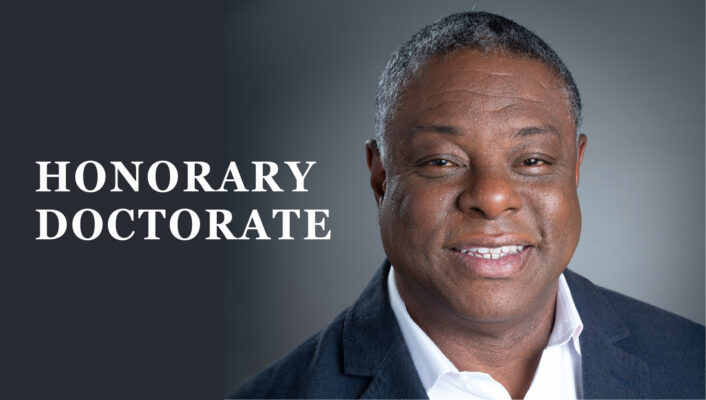 Entrepreneur, business leader, volunteer and McMaster graduate Wayne Purboo has over 25 years of experience in the media and telecommunications industries. Purboo, who was the co-founder and CEO of QuickPlay Media – a company providing mobile media services to premium video service providers – is now vice-president of Amazon Advertising. The Jamaican-born Canadian has volunteered with many organizations including Virgin Unite, The Toronto International Film Festival (TIFF), and SickKids. Purboo has also shared his entrepreneurial skills and experience with McMaster students at The Forge, McMaster's start-up accelerator. In 2006, he was named one of "Canada's Top 40 Under 40" by the Caldwell Partners and is a recipient of the University of the West Indies Vice Chancellor's Award.
Access the ceremony celebration page.