Kelvin Ewald is mobilizing the transition to a green economy
June 10, 2021
|
Contributed by Rebecca Hull, Marketing and Communications Strategist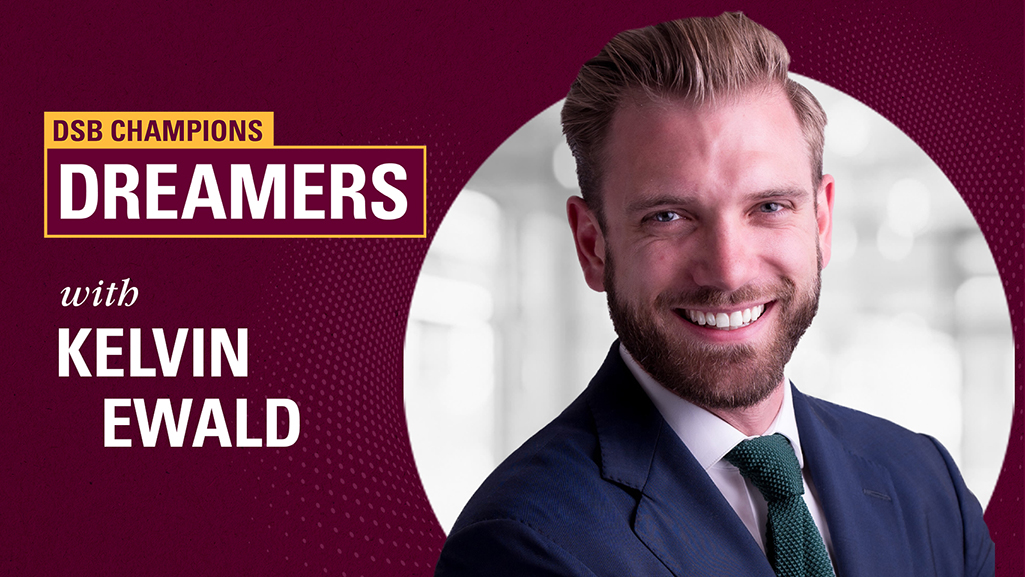 Kelvin Ewald (BCom'13) has spent the past three and a half years making investments into green energy infrastructure across Europe. Ewald works in London, UK, as a vice president at the Green Investment Group (a part of the Macquarie Group, a leading global investor) overseeing everything from structuring power-purchase agreements with leading corporates to creating project development platforms to executing the construction plan of a project.
Ewald's passion for investing in green energy stems from a few different areas:
My mom was a really strong environmental influence for me. She was always encouraging us to get outdoors and learn about environmental sustainability from a very young age. So, we used to learn about conservation, read David Suzuki books, and pick up garbage around our neighborhood. Then in high school, I started to take social science courses, and learn more about the world and societal level challenges. That is where I really got interested in climate change.

---
Kelvin Ewald's start in the renewable energy sector
Once Ewald graduated from the Bachelor of Commerce program at McMaster, he started working with KPMG in a consulting role in the infrastructure space, which also crossed over with the renewable energy sector. There, he authored a report with KPMG and the Canadian Solar Industries Association about what a vision for what the solar industry in Canada could be.
"I've always been trying to find more and more things to do in renewable energy since then. I tried unsuccessfully to move to California to work in solar. But, I found a job at a Canadian solar company, and eventually landed at Green Investment Group. I've found my way to the centre of the green energy universe in Europe."
Being involved in extracurriculars at DeGroote has always been Ewald's greatest takeaway from his time at university. He was able to gain some of the soft skills, attitudes, and learnings he's still using today. He believes extracurriculars are an excellent way to develop these skills, whether at interviews or networking events.
"Put yourself in a situation to be a leader, organize a team, create new programs, manage a budget, and most importantly develop a mentality of ownership for solving problems. These are behaviours that make a huge difference in your career."
Future of green energy
Ewald believes the future of energy lies in renewables. Hydrocarbons are still relevant in everyday life, such as producing plastics, pharmaceuticals, and other industrial processes. Renewable energy can address challenges in electricity generation and transport. Emerging solutions like hydrogen can help with even harder areas of the economy to decarbonize. Oil investment projects have now become riskier, he says. Price volatility and uncertain demand outlook, environmental concerns, and higher extraction costs mean these investments may not translate into substantial returns for investors anymore. Alternatively, investors, including traditional oil and gas companies, are seeing new opportunities from green energy investments.
However, Kelvin Ewald emphasizes changing the way we think about green energy:
Right now, the way societies think about energy is entirely out of date. We're trying to fit a square into a circle. Take electricity as an example. To put it simply, we have a centralized electricity grid and energy infrastructure built on very old technologies. We're then trying to eliminate old generation technologies, but we're not changing the networks. Electricity grids are becoming constraints quickly and require collaborative solutions and planning with all stakeholders.

---
To Ewald, our biggest challenge in the coming decade lies beyond the innovative technologies themselves. Instead, he stresses the importance of systems thinking in implementing renewable energy infrastructure, including policy-making, public acceptance, and designing infrastructure.
What's more important now is how to convince governments and investors all at once that we need to change the system. A lot of it has to do with policy. The more I work in this space, the more I realize that this comes down to decisions we make as societies and as governments.

---