Laura Coelho: Class of 2023 Undergraduate Valedictorian
June 16, 2023
| Hamilton, ON
Contributed by Laura Coelho, 2023 Valedictorian
Name: Laura Coelho
Hometown: Born in Belo Horizonte, Minas Gerais, Brazil. Raised in Burlington, Ontario, Canada
Program/degree: Honours Bachelor of Commerce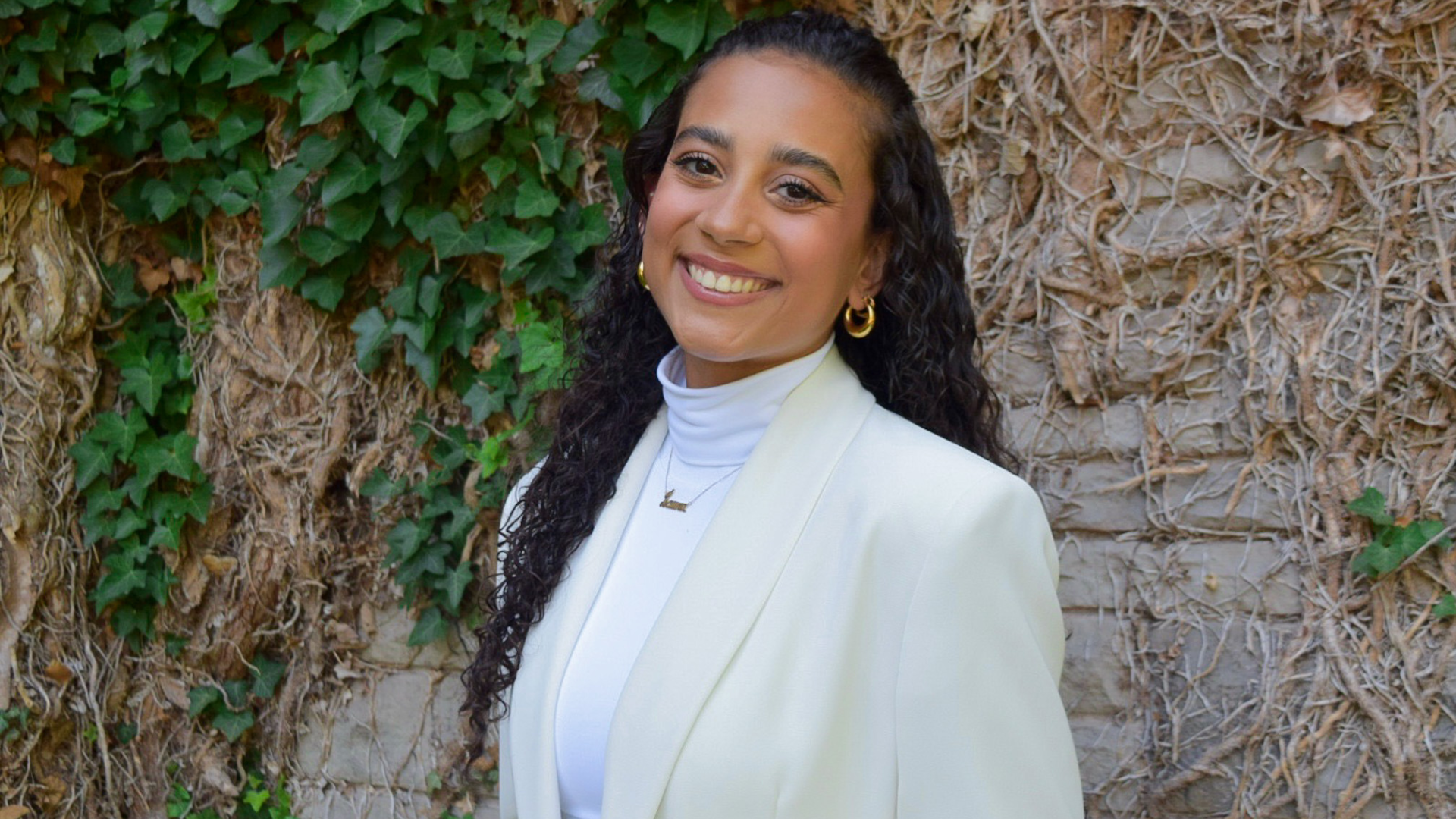 1. What's the best advice you would give a first-year student?
The best advice I would give to a first-year student is to not rush and to enjoy the journey. A learning I received from my mentor Nicole Gauthier during my summer internship at Ford Motor Company is that I have time and to not rush. She told me this in my second year, but as I graduate and reflect on the past five years the learning has really sunk in.
While it's important to set goals, get involved, and try your best, don't forget to enjoy the journey as it goes because before you know it, you're in your last year of university wondering where all the time went!

---
Try and prevent yourself from overthinking and stressing over obstacles, and rather look at them as an opportunity to come out stronger in the end. University is a time full of change and uncertainty, but it's also a time to take control of your life and realize who you want to be. Enjoy the journey, say yes to trying new things, and have a positive mindset that you will overcome challenges as they come.
2. First year can be hard. Tell us about a challenge you overcame. What did you learn about yourself from it?
First year is difficult as there is so much change that you must adapt to. It can get very overwhelming. Whether it's moving away from home for the first time, having to manage a heavy academic course load, and trying to make new friends, it's a lot. What I found challenging was learning how to best prepare and study for my classes since the structure was so different from high school. I did well in my classes in high school, but courses that were heavily focused on finances and math weren't my strong suit. I particularly struggled with first year calculus and accounting, being that I didn't have any background in it previously. I was so upset when I performed poorly on a couple midterms for my first-year calculus class. I felt defeated after I spent so much time preparing. I mustered up the courage to ask for help, attended math help on campus, studied with a tutor, and waked up early every morning to study. In the end, I performed very well on my final exam, and boosted my grade by 20%.
In retrospect, my final grade doesn't define my success as a person today, but what mattered is that I learned I am capable of overcoming challenges as they come as long as I believe in myself and try my best.

---
To the first years out there, remember that it gets better. First and second year can be difficult with all of the required courses you must take, but they provide the foundation for future years. My third and fourth years I was able to choose commerce electives focused on what I was interested in, and I performed significantly better academically. It'll be okay, just give yourself the credit that you deserve because you are trying and that the best is yet to come!
3. What's next for you? How do you feel about it?
I used to be the type of person who would be uncertain about change and what the future holds. Recruitment isn't easy, and it can be defeating a lot of the time. The past year or so, I've become excited for the next chapter.
I've learned to accept the fact that it's okay not to have a concrete path to follow, and to be willing to try new things and appreciate the journey as it comes.

---
Since wrapping up my exams, I've been focused on taking some time off to focus on myself, my family, and pursue passions in travel. I've also been able to get back to my passion of painting by continuing to create custom hand painted shoe designs for my small business @KicksByCoelho on Instagram.

As I enter this new chapter of my life, I am thrilled to begin my career at Environics Research as a Marketing Coordinator. The team has embraced my entrepreneurial creativity and spirit and I am excited to learn and grow with them. I will continue to paint custom shoes for my small business and in my free time will get back to taking dance classes in Toronto. I am excited for what the future brings and ready to continue my journey as it evolves.
4. Share a good memory from your time at McMaster. What will you miss most?
I am so fortunate for the experience I had at McMaster and am grateful to graduate and say that I made the most out of my undergrad. I was involved with many areas across DeGroote and the MacDance community and some of the most special memories are associated with Jeux Du Commerce Central (JDCC) DeGroote. JDCC is the largest undergraduate business competition bringing together 700+ business students across Canada competing across 12 business streams. I've been a delegate and executive since my second year, and this past year was Co-Captain alongside Anna Di Bacco. It was a full-circle moment coming together to compete in Ottawa in January 2023. After a full year with over 700 hours of practices, 2,100 volunteer hours, $17,000 raised for local charities, and countless hours of preparation 45 delegates competed in Ottawa for the first back-to-in-person competition. The delegates hard work accumulated in 11 trophies, a new record for DeGroote, and the honour of School of the Year for the second time in DeGroote's history. I will never forget that weekend seeing our delegates thrive in their final presentations, acting performances, and sports challenges. Seeing their hard work recognized with 11 podium finishes was incredible. The gala evening and awards ceremony will remain a core memory. While winning was a great recognition, what will stay with me is hearing from delegates how much of an impact this community and experience had on them personally and how much I had supported them as a Captain. I will miss this team so dearly and hope to continue to be involved as an alumnus.
The DeGroote is McMaster community is like no other, and I'll miss the comradery and memories we shared together.

---
5. What's your favorite course/elective you took that wasn't a part of your degree? What did you like about it?
One of my favourite things about McMaster is the wide range in courses you can take. I've always been interested in Japanese culture and anime and am planning for a big trip with my boyfriend in the future who loves it just as much. This past semester I took 2X03 Japanese Anime and it was one of the most fun classes I've ever been in. We learned about Japanese culture, history, and how anime and music has influenced mainstream pop-culture. Who knew that I could take a class where I was graded on the themes and plots of my favourite films created by Studio Ghibli? Even if you aren't a big anime fan, I recommend this course as an introduction to it, I promise you'll love it!
Additional courses that I loved included Introduction to Psychology which I recommend especially if you're interested in consumer behaviour in marketing, Public Relations, and any of the innovate courses. In 2X03 Lean Startup you get to build a business idea and create a business model and pitch with your group members. There are so many interesting courses at McMaster so definitely take advantage of them!