Teamwork Earns DeGroote Delegates 'School of the Year' at JDCC Competition
March 3, 2023
| Hamilton, ON
Contributed by Meagan Keane, Communications Specialist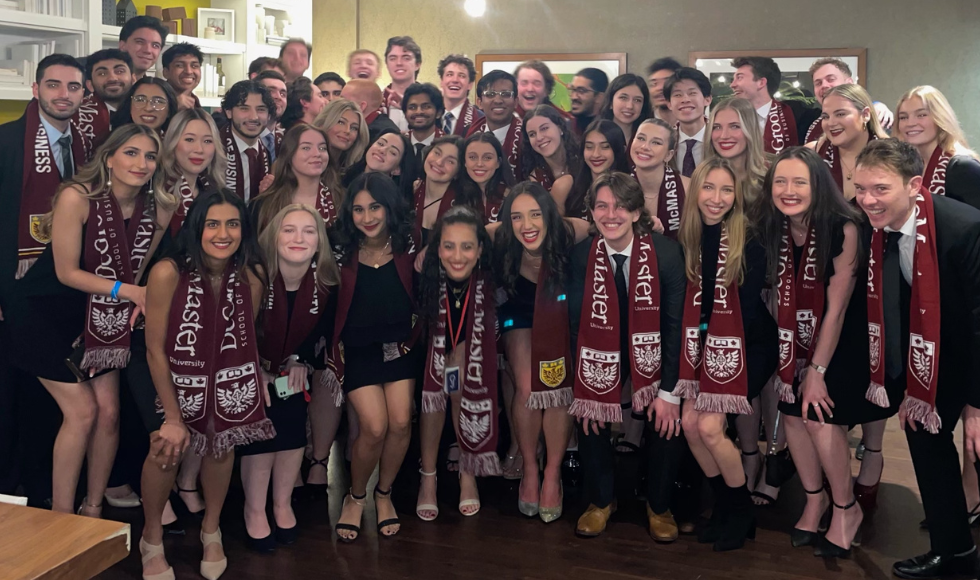 Each year the Jeux de Commerce Central (JDCC) competition brings together over 700 student delegates from business schools in Ontario, Quebec and the Maritimes, making it the largest undergraduate business school competition in central Canada. The intensive three-day competition includes academic cases, parliamentary style debates, sports tournaments, social competitions, and charity contributions.
In preparation for the 15th annual JDCC competition, which took place in Ottawa from January 20-23, DeGroote's 45 delegates spent an impressive 700 hours practicing, volunteering, researching and meeting with professors and industry alumni to truly become the best they could be. Their hard work and dedication resulted in a DeGroote record of 11 JDCC trophies, including first place wins in Finance and Social categories, and the title of 'School of the Year'.
"We were very committed and had an amazing executive team to organize us and ensure we were prepared," said DeGroote IBH student and Most Valuable Delegate, Kellie Stevenson. Faculty coach, Linda Stockton agreed, saying "Trying to co-ordinate the schedules of 45 delegates with the faculty coaches and alumni mentors is always a challenge. Anna Di Bacco and Laura Coelho, the team's co-captains, did a monumental job of bringing this all together."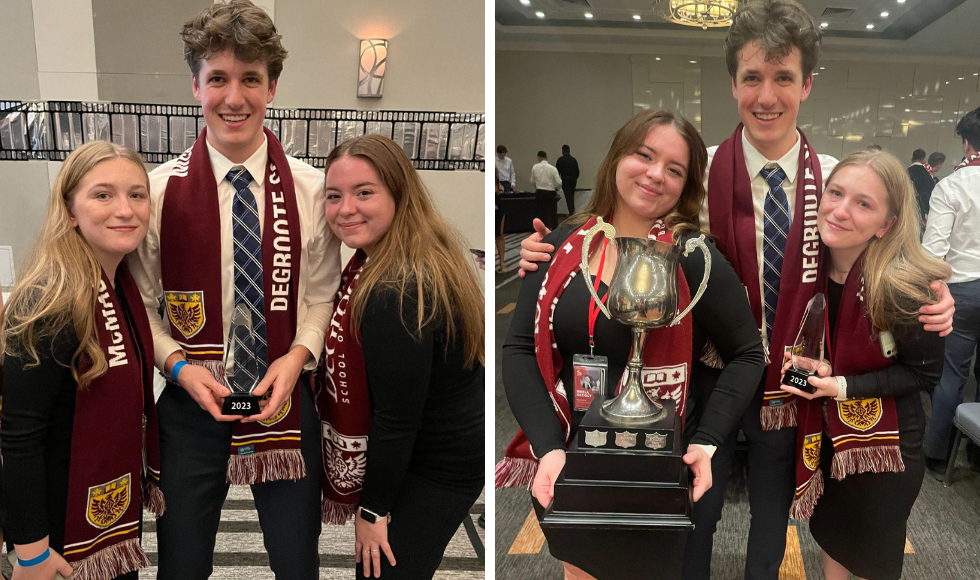 After participating virtually the past few years, 2023 marked the return of an in-person JDCC competition. Stevenson said as a second-year student it took some adjusting to get comfortable with in-person presentations and extracurriculars. "I spent extra time practicing and familiarizing myself with certain material and skills".
Stevenson wasn't the only DeGroote delegate who worked hard to learn new skills and apply them to the competition. According to Stockton, many members of the team were new to competitions and case analysis, but watching their development was very rewarding.
"I kept being asked 'What do I need to do to be part of a winning team?' It was very encouraging to see the spirit and drive that our students portrayed throughout the experience."

---
In many ways, the JDCC competition gives students an opportunity to experience elements of a corporate culture. "The JDCC mimics an organization with the many cross-functional teams, socials and bonding opportunities, and the way that JDCC goes above and beyond with its community engagement initiatives," said Stevenson.
The JDCC competition places great emphasis on community engagement, encouraging delegates to fundraise and volunteer within their community throughout the fall term.
"It teaches students that business goes beyond the organization," said Stevenson.

---
DeGroote delegates gave back to the community through a variety of events, including Movember and the Terry Fox Run, volunteering an impressive 2,100 hours, and raising more than $17,000 for charities in greater Hamilton.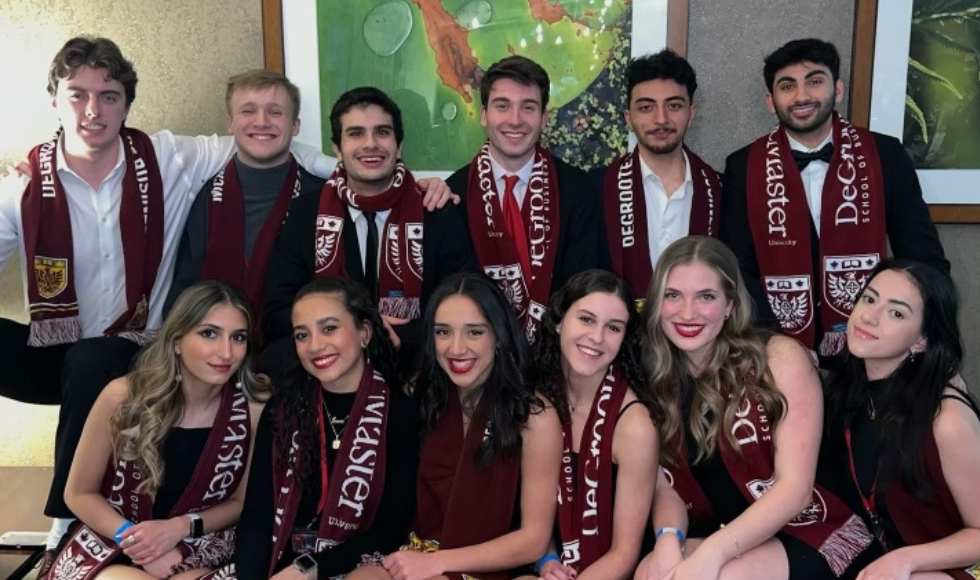 In the end, earning the coveted title of 'School of the Year' made all the hours of hard work and dedication worthwhile.
"Seeing DeGroote's name spelled out as 'School of the Year' was an incredibly proud moment for our entire delegation," said Di Bacco.

---
Knowing that this is the final year she will coach case competitions at DeGroote, Stockton said achieving 'School of the Year' status was "particularly poignant". She recognizes that this achievement would not have been possible without the hard work and commitment of all 45 DeGroote delegates throughout the fall term. "Thank you to all of the delegates for the work and effort they contributed that resulted in this outcome."