Milena Head receives Dr. S. J. Basu Teaching Award
March 18, 2021
|
Contributed by Rebecca Hull, Marketing and Communications Strategist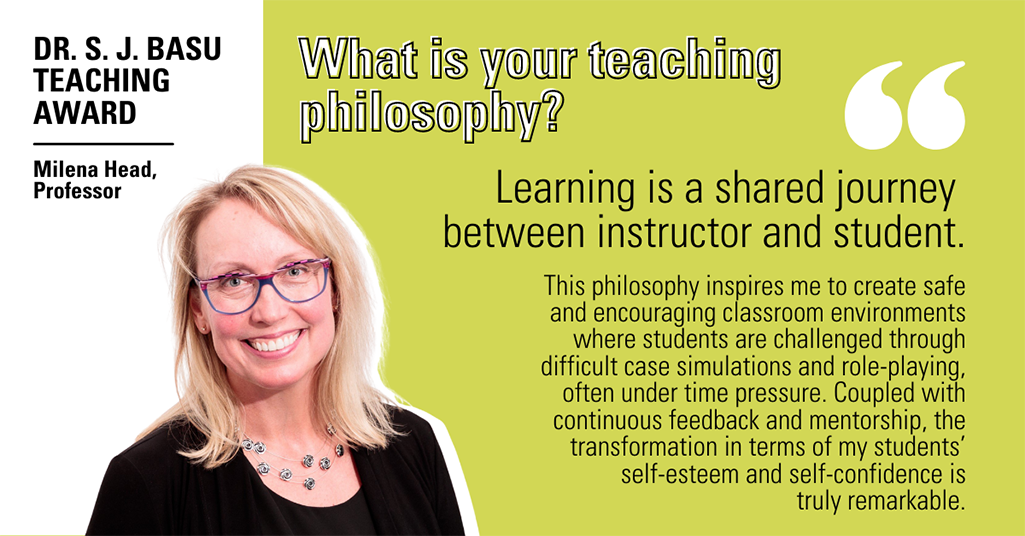 The students have spoken! Congratulations to professor Milena Head on being one of this year's recipients of the Dr. S. J. Basu Teaching Awards for professors teaching in the MBA Program.
We sat down with Milena to find out more about her teaching style and what this award means to her. Read below!
What does receiving this award mean to you?
I am truly honoured and humbled to receive the Basu award again. This recognition means so much to me because it comes directly from the students, being voted on by the students. I cherish these awards as, to me, they reflect the positive impact that students experience through our shared learning journey. Students continuously ignite my passion for teaching, learning and mentorship. I am grateful every day for being blessed with the best job in the world!
What is your teaching philosophy? How does it influence your approach in the classroom?
Learning is a shared journey between instructor and student. As an instructor, I strive to facilitate and inspire critical and multidisciplinary thinking and personal transformation in a collaborative and experiential environment. In turn, students continuously ignite my passion for teaching, mentorship and personal development through collaborative discovery. This philosophy inspires me to create safe and encouraging classroom environments where students are challenged through difficult case simulations and role-playing, often under time pressure. Coupled with continuous feedback and mentorship, the transformation in terms of my students' self-esteem and self-confidence is truly remarkable.
Tell me about a time when teaching made you feel hopeful.
A few years ago, one of my D700 students was a part-time student who was also an instructor at a neighbouring post-secondary institution. As with other students in the class, I witnessed an incredible transformation in how he tackled business problems, presented himself and defended his recommendation under tough scrutiny. He and his team won their competition in Calgary (East Meets West Case Competition) and he was so inspired by his experiences that he became the champion and coach for undergraduate business case competitions at his institution. A couple years later, we met at the Ethics-in-Action Case Competition (in Halifax). Both our teams excelled, where his team won the undergraduate division and my team won the graduate division! Not only was I incredibly proud of the success of our students, but I was so honoured and delighted that my passion for experiential case-based teaching and case competitions inspired one of my students to introduce the same in his institution.
---
Sanjoy Joe Basu taught accounting at the School of Business. He passed away in January 1983 at the age of 37. The Basu Teaching Award aims to foster the type of teaching excellence achieved by Dr. Basu. Friends, colleagues and accounting organizations also established the Basu Medal, which is awarded to a graduating student who has displayed outstanding achievement in accounting.