The new breed: DeGroote's MBA program is turning heads with key assets and Toronto on its doorstep
January 12, 2018
| Burlington
Contributed by Andrew Baulcomb, Communications Officer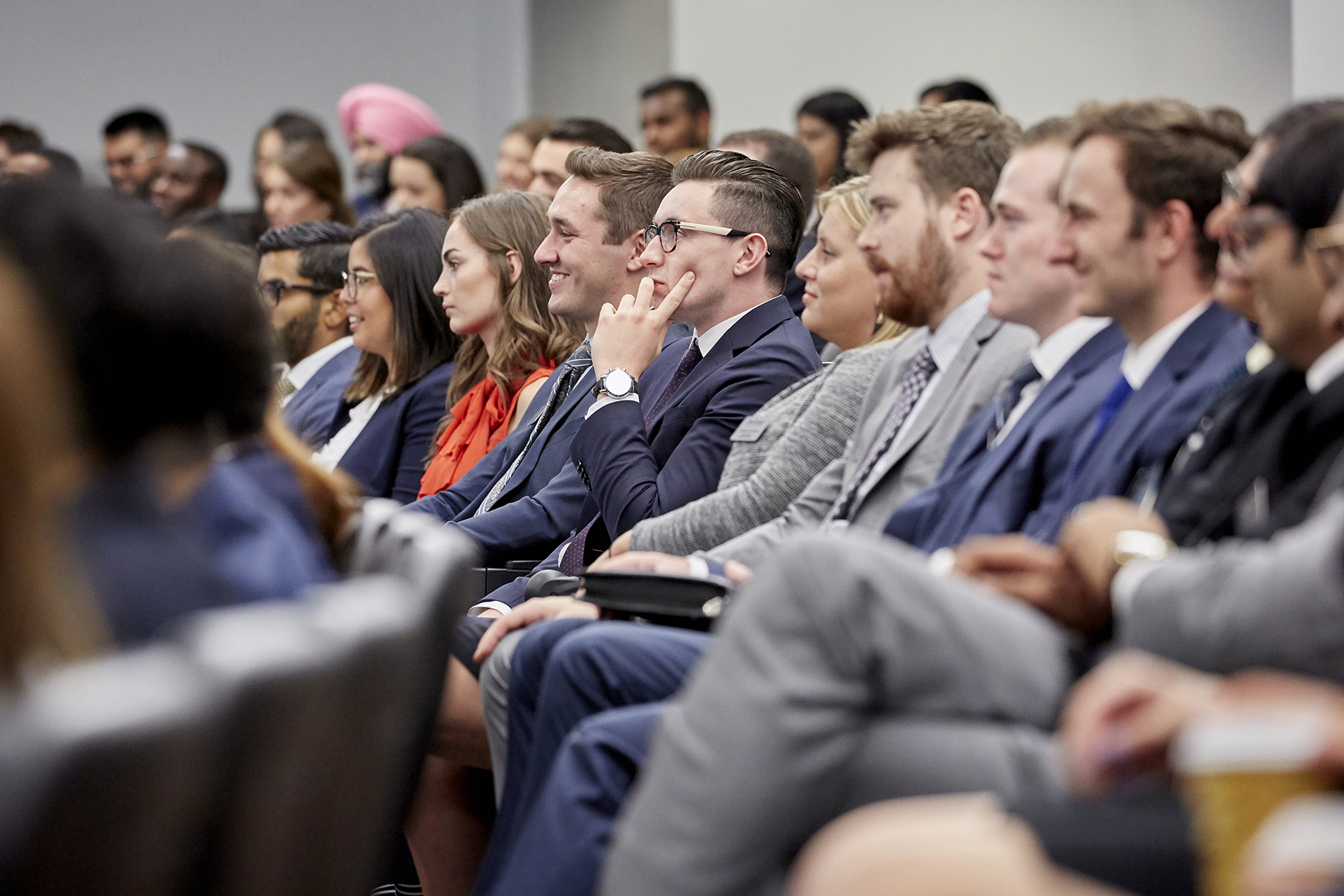 A strong network of employer partners. A progressive curriculum. Easy access to major highways and public transit. A sleek and modern educational facility. These are just a few of the advantages working in the DeGroote School of Business' favour, when it comes to attracting MBA candidates.
Throughout the past decade, DeGroote has emerged as a major player in Ontario's crowded and highly-competitive MBA market. With an ambitious price point and strong reputational advantage, the return on investment is seen as high and compelling among prospective students. ROI is always a chief concern in business, of course.
The fact that McMaster is now the third-ranked university in Canada and 66th in the world (Academic Ranking of World Universities 2017) is also a huge boon for the DeGroote MBA program. 
"This is far from a one-dimensional MBA program, and it offers a real path to success," says Willi Wiesner, Director of the School's MBA program, and an Associate Professor of Human Resources and Management at DeGroote. Wiesner would know. Among other fields, he's an expert in employee recruitment and selection, employment interviewing, and work team effectiveness.
"Less than a third of the MBA candidates we attract have an undergraduate degree in business," Wiesner continues. "We admit students with backgrounds in engineering, science, health sciences, the humanities, and several other disciplines. They come here because they know DeGroote will help them achieve their career goals."
The School's MBA program, which currently offers Full-time and Co-op streams, has been based at Burlington's Ron Joyce Centre since 2010. The four-storey building, punctuated with glass and natural light, is located just off the Queen Elizabeth Way between Appleby and Walkers Line. Regular shuttle service is available to and from McMaster's main campus in Hamilton.
In addition to classroom, research, recreation, and public event spaces, the Ron Joyce Centre is also home to DeGroote's Health Leadership Academy (HLA), Executive MBA in Digital Transformation (EMBA), and Digital Transformation Research Centre (MDTRC), along with the Directors College.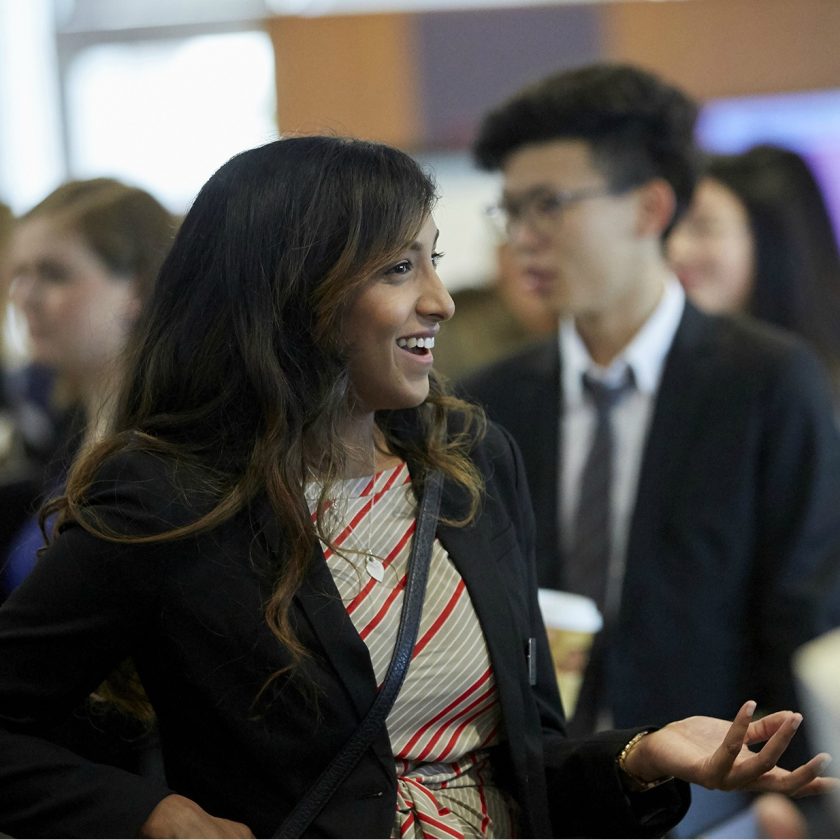 It's situated in what Burlington Mayor Rick Goldring refers to as the city's "Prosperity Corridor," complete with major highway access, multiple connection points to GO Transit, and proximity to a labour force of more than two million people within the Greater Toronto and Hamilton Area. One of the world's busiest commercial and financial centres is in the School's backyard.
Last year, in an effort to enhance the overall MBA experience, DeGroote staff and faculty combined best practices from across North America with a suite of innovative curriculum design principles. The resulting reforms – such as cohort classes, integrated case studies, and a series of foundation weeks – were based on insights from current students, alumni, faculty, and key industry partners. The goal is to deliver an educational experience that will transform business and society.
"The foundation weeks, in particular, introduce critical business skills and principles to new students at the outset of the program," Wiesner explains. "As a result, students begin their MBA journey with the foundation to succeed in the classroom, at their co-op jobs, and in their leadership and networking activities."
The School's MBA Co-op stream, one of the leading programs of its kind in Canada, places students directly in the heart of the action via three work terms over 28 months. DeGroote maintains relationship with dozens of top employer partners – including the likes of 3M, Deloitte, BMO, RBC, KPMG, PepsiCo, Samsung, Xerox, Whirlpool, Canadian Tire, PricewaterhouseCoopers, and the Centre for Addiction and Mental Health – and a wide variety of positions are regularly available. Many of these work terms are based in Toronto's Financial District. Co-op students can also use work-term salaries to help pay for their tuition, and employer partners are known to hire students directly from the School.
Outside the classroom, DeGroote MBA students are encouraged to participate in as many extracurricular activities as possible. "The MBA program offers various opportunities for experiential learning, including the MBA Association, student clubs, case competitions, and the DeGroote Leadership Development Program," offers Lea Matulovic, President of the DeGroote MBA Association from 2015 to 2017.
A DeGroote Commerce alumna who has taken part in numerous MBA case competitions across Canada, she's currently employed as an Associate, Cross Business Structuring, with BMO Capital Markets in Toronto. She will finish her MBA soon. "Involvement in initiatives outside the classroom provides balance to students' busy academic schedules," Matulovic continues. "It allows them to network with peers and industry professionals."
In 2016, the Co-op stream graduated 102 students, who commanded an average salary of $71,930 upon entering the marketplace. Roughly 40 per cent went on to find employment in banking, capital markets, or financial services, while the remainder pursued careers in healthcare, biotech, pharma, marketing, consulting, and other sectors. On the Full-time side, 84 students finished the MBA program in 2016, and went on to earn an average salary of $60,125. They too have enjoyed early career success in banking, capital markets, or financial services, but also consumer packaged goods, retail, consulting, technology, and communications.
So what's next for DeGroote's MBA program? A proposal for a Part-time blended MBA is currently undergoing review by various McMaster and provincial bodies. The School anticipates approval by early 2018, and is tentatively aiming for a fall launch. The Part-time program's blended learning approach will include both online and in-residence components, focusing on work-integrated learning that leverages real-world experiences. In the meantime, the School is actively pursuing the best and brightest candidates from across Ontario and beyond for its Full-time and Co-op streams.
Ready to take the next step? Obtain the education and experience you need to get where you want to be. Learn more about the DeGroote MBA program.