The change agents: Business titans Hélène and Paul Desmarais to receive honorary degrees from McMaster
June 3, 2019
| Montréal
Contributed by Gordon Pitts, Business Writer in Residence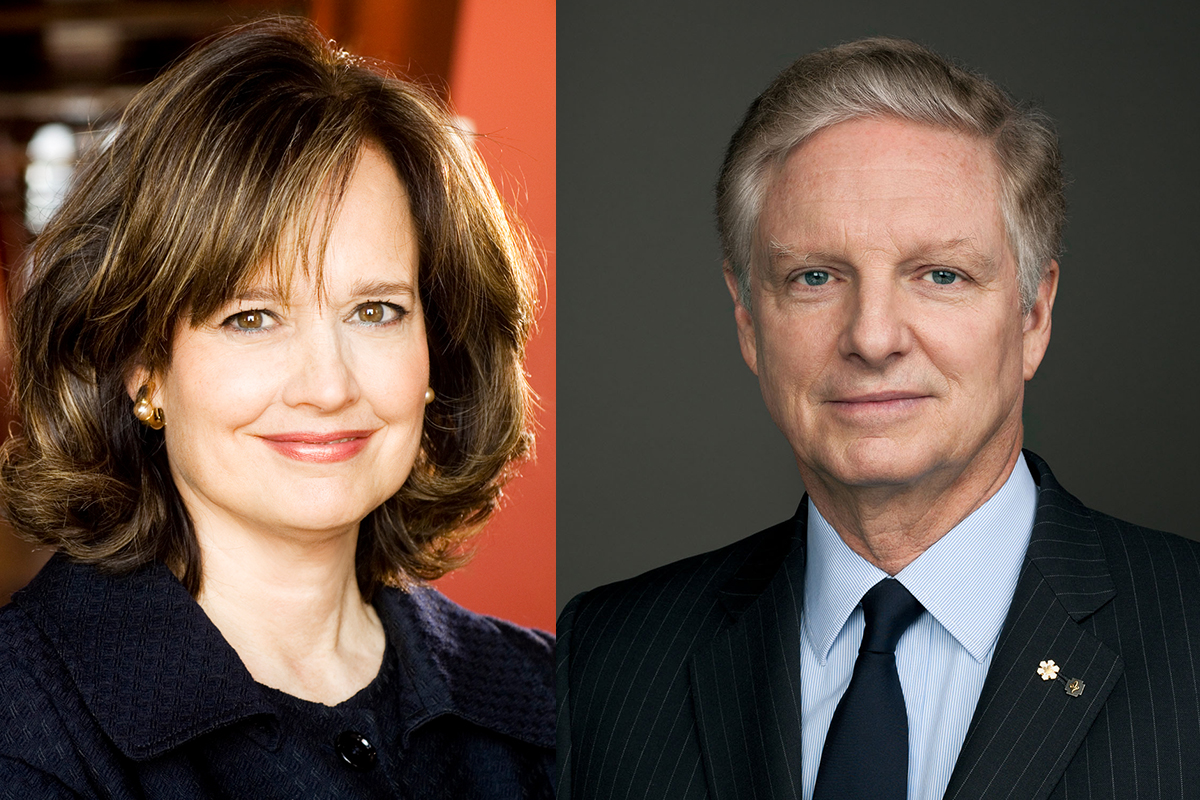 Both Hélène and Paul Desmarais are change agents – among their initiatives, she is co-chair of the Montréal super-cluster for artificial intelligence, while Paul now relishes helping all four of his children's start-ups. They'll receive honorary degrees from McMaster University June 11.

---
She helps nurse technology start-ups through their growing pains. He stands at the helm of one of Canada's most influential companies. Hélène and Paul Desmarais, married 40 years, spend most of their working days on opposite ends of the enterprise spectrum.
Yet this Montréal couple is passionately aligned on one subject: The value of university education to their own lives, and for the future of Canada.
Universities are safe places for young people to test their abilities and ideas – "to explore your thinking without any inhibition" – says Paul, Chairman and Co-CEO of Power Corp. of Canada, whose vast holdings include Great-West Life, Investors Group, and Wealthsimple.
At a time when the university's role is much debated, Hélène sees it as an essential ingredient of a healthy democracy. "It allows students to exchange ideas and become better citizens," says Hélène, founder of a successful tech incubator and a leader in Canada's artificial intelligence community.
It is thus entirely fitting that the Desmarais will be joint recipients of honorary degrees from McMaster University, presented during the DeGroote School of Business' afternoon convocation on June 11. Business icon and former Lakeport Brewing Corp. CEO Teresa Cascioli will also receive an honorary degree during the morning ceremony.
The Desmarais' commitment to education is expressed in myriad ways. For example, one of Power Corp's businesses, Mackenzie Investments, supports a chair in evidence-based investment management at DeGroote.
More broadly, the Desmarais applaud McMaster's efforts to lower the fences between disciplines, and for areas such as engineering, medicine, humanities and business to venture into pioneering collaborative efforts.
Such collaboration, when combined with rich business-university interaction, fosters "the kind of education kids will have to have," says Paul, who heads Power Corp. with his brother André. They follow in the footsteps of their late father, Paul Desmarais Sr., who built the business from a family bus company in Sudbury.
The younger Paul (often called Paul Jr.) and Hélène both saw their lives transformed by their university experiences.
She first wanted to be a doctor, but came to see her future in business and pursued a finance degree at HEC Montréal. It provided critical tools for problem solving, and exposure to globalization and technological disruption. "It makes you not just career-ready or credential-ready but future-ready."
Today, Hélène applies these skills at the Centre d'entreprises et d'innovation de Montréal (CEIM), the tech incubator she founded 22 years ago, and at HEC, where she heads the board of directors.
She retains her interest in healthcare and medical research while, at the Montréal  Symphony Orchestra, she helped reorganize its imperiled finances and build a large  endowment to support international touring and attract leadership. Says  DeGroote Dean Len Waverman: "Her professional life resembles that of a Renaissance artist."
Meanwhile, Paul is a onetime arts student at McGill who, after a strong mark in his one business course, switched his major to commerce and later honed his skills through an MBA from the international business school INSEAD.
The business case studies formed insights he deployed later at Power Corp. – and yet he sees the merit of his arts background. "You need a humanities education – to be a better leader and a better person."
He  is concerned about the current glorification of the university drop-out – the tech wunderkind who happens on "the next big thing" and abandons his or her studies to pursue it. The  poster child for the drop-out phenomenon is Facebook founder Mark Zuckerberg, who, Paul cautions, is "one in a million." For most young people, university is "a great growing moment" that should be embraced and enjoyed.
Both Paul and Hélène are change agents – among their initiatives, she is co-chair of the Montréal super-cluster for artificial intelligence, while Paul now relishes helping all four of his children's start-ups. These include Portag3, a financial technology venture capital group led by son Paul III, working with Adam Felesky, BA & BEng '99.
Asked if they are a partnership, the Desmarais point to the raising of four children. But they pursued individual career pathways. "We had respect for each other's development and we have grown together," Paul says.
Hélène notes how life's big changes often happen by fluke occurrence, such as the surprise phone call from a federal cabinet minister that spawned the incubator. It has nurtured 300 companies with a striking success rate of about 75 per cent.
You should be focused on short-term goals, while vigilant to the periphery of your vision, she concludes. "You need to be able to see the shiny thing in the corner of your eye."
After 40 years, she and Paul are still spotting those shiny things.