Wilson Scholar Aspires to be a Leader in Climate Change
December 9, 2022
| Hamilton, ON
Contributed by Izabela Shubair, DeGroote Contributor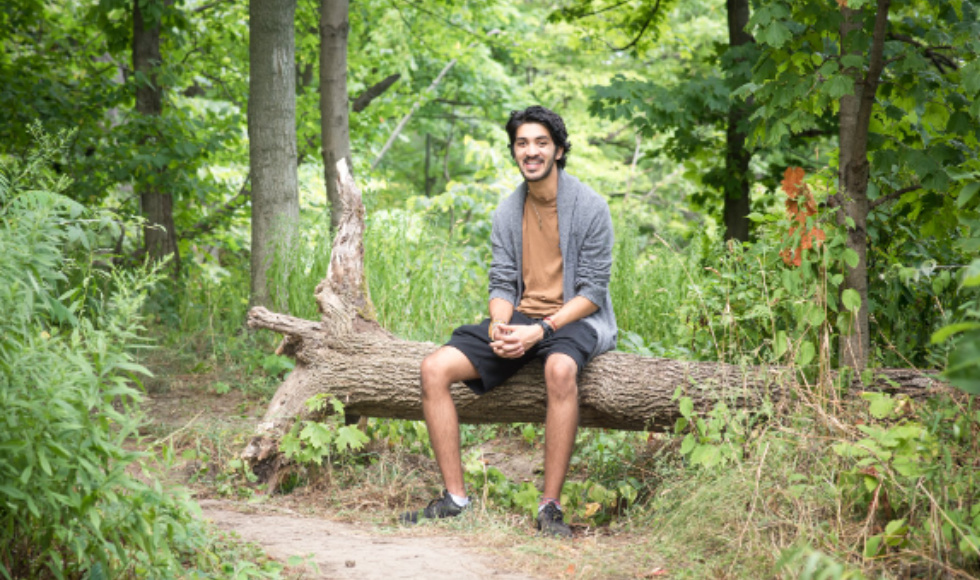 When Integrated Business and Humanities (IBH) student Hrithik Sharma was 11 years old, he fell in love with nature. After attending the Tim Hortons Foundation Camp for about seven summers, Sharma's love of the outdoors turned into a passion for climate change. Now, the 2022 recipient of the Wilson Leadership Scholar Award is using the transformative opportunity to instill the same love in the next generation. As Sharma works to make an impact in his community, the Wilson Scholar program is helping him to develop the skills to do so.
"Leadership can happen in the driver's seat, the front seat, or the backseat," he says. "It's about understanding, being able to listen, and coupling that with empathy, to make positive change. To be an effective leader today, you have to have an emotional investment in whatever you are leading. As a leader, I want to be someone who brings out the best in others.

---
"When I applied for the Wilson Scholar Award, I was hoping to grow with a community of my peers. Hearing their perspectives on leadership and different topics has led to meaningful discussions and broadened my own perspective. I'm beginning to think about the world in a more holistic way."
Annually, 10 McMaster students are chosen for the Wilson Leadership Scholar Award program. This year's cohort welcomed an unprecedented 11 students. Each member receives $12,000 in direct funding and $2,000 for experiential learning that they couldn't otherwise obtain solely through their academic program. The cohort also leads problem-based learning sessions and shared reading discussions on national issues while learning from speakers and mentors.
"I hope to use the $2,000 towards experiential learning that allows me to further develop my knowledge of climate change, such as an international conference or learning opportunity abroad," says Sharma. "I've decided that my career will involve the environment, whether that's climate consulting or working for a firm that's really environmentally-responsible. Currently, for example, I'm at Deloitte in a corporate responsibility and sustainability analyst role."

---
As he carves out his career path, Sharma is also working on the project aspect of his Wilson Scholar application. An applied community project, it is meant to help address a significant issue in Canada while aligning with the Future of Canada Project 2022 research themes, the United Nations' Sustainable Development Goals (SGD), or both.
Sharma's project, Roots Above Ground, uses nature as an ecological asset for positive development for youth from marginalized communities. The project proposes conducting biweekly, one-hour sessions for four months at a Hamilton elementary-level class. In these sessions, Roots Above Ground will use experiments and outdoor engagements to provide educational programming covering topics such as the ecosystem and nature, water cycles, agriculture, sustainability, and mental health and nature. Roots Above Ground participants will also bring nature home by growing low-light, low-water plants that they can maintain with minimal effort and resources.
"Some kids, especially those from marginalized communities, live in the city with the most waterfalls but don't have opportunities to explore their backyard," says Sharma of his project, which aligns with SDGs such as Good Health and Wellbeing, Quality Education, and Climate Action.
"I wanted to help introduce them to embracing nature, and learning about things like the water cycle, at a young age. Earning the Wilson Leadership Scholar Award is a testament to the positive impact my family, friends, and multiple community groups have had on me. I aim to integrate myself into local Hamiltonian communities and support their youth, similar to how my circles have and continue to support me."

---