Student Experience – We're Here For You
academic
| March 18, 2020
Submitted by
Meagan Keane
for Student Experience - Academic and Career and Professional Development
The DeGroote School of Business is committed to the health and well-being of our students, staff, and faculty. With the recent announcement from McMaster's President, David Farrar, as of March 13, McMaster has suspended all in person classes and moved exams online. To read Dean Waverman's message to all DeGroote students, please click here.
Although all in-person classes are cancelled, know that your Student Experience team is here and ready to support you. We understand that you may need us now more than ever. We're sure you will have questions. We won't profess to have all the answers to the ever-evolving situation, but we are committed to working with our Faculty and with our partners within and outside of campus to ensure we keep our community safe.
Please know that the Student Experience team is working hard to best support you during this time of change. Here are some immediate actions that have been implemented to best support you:
As of March 17th, all appointments – advising and coaching – will be virtual (Zoom) or phone
If you have any program specific questions, please contact us at: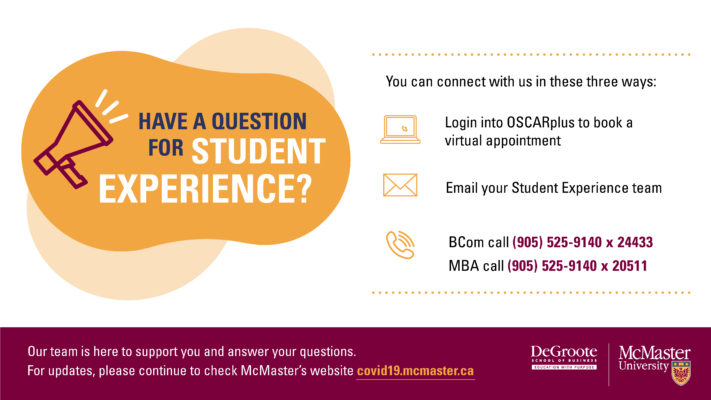 Best practice – Please be sure to include your program details, your full name and student number in all emails. Subject line details of your inquiry is also helpful.
When will you hear back from us?  You can expect a reply normally within two business days.
Our hours remain the same. Our team is ready to deliver online programming (where previously scheduled) and one-on-one services during our regular business hours: Monday to Friday – 8:30 am to 4:30 pm
We are committed to supporting you through this time and we look forward to connecting with you in new and different ways.
During this time of uncertainty, please exercise self-care and kindness to one another, faculty and staff.  As always, DeGroote's work is guided by our values. In preparing for the possibility of disruption, we are focused on collaboration and generosity above all else.