Bruce Miller: From pet food to people food, a marketer's journey to burger central
November 28, 2014
| Oakville, Ontario
Contributed by Colin Carmichael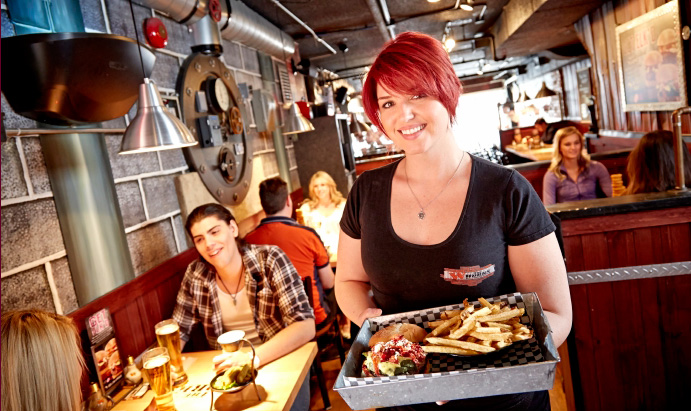 In 2008, Bruce Miller (MBA '98) was at the top of his game. Having successfully taken the Whiskas brand of cat food from a "weak number 2" to the top brand in Canada as Director of Marketing, Miller was VP marketing for the Montana's chain of restaurants, one of several Cara brands that also include Swiss Chalet, East Side Mario's, Kelsey's and Harvey's.
The move from pet food to people food would set Miller's career path for the next several years. In the two years with Cara, Miller learned the restaurant business from the inside with exposure to a range of food and service styles. With this knowledge, and his corporate marketing career at its pinnacle, Miller went looking for an opportunity that he could take some ownership in – literally. His short list of small regional chains included The Works Gourmet Burgers, emphatically suggested by his brother who lived in Ottawa and said, "you gotta come see this place!"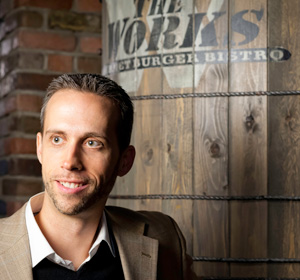 "The first time I visited," Miller says, "the place was so busy, we had to get take-out because we couldn't get in. I was blown away with my first bite."
A short time later, Miller left his corporate marketing job to build a brand of his own, buying into the small chain of 5 burger joints based in Ottawa.
Not content to sit on the success of the local chain, with its unique blend of gourmet burgers and beer – and a "rabid fan base", Miller moved the corporate headquarters – Burger Central – to Oakville and set about expanding the chain from 5 corporate-owned locations to a franchise network of 26 restaurants in just three years.
"It's been 4 MBAs and a PhD crammed into 3 years," jokes Miller, "Accounting, human resources, supply chain, strategy; as an owner you have to do it all!"
A graduate of DeGroote's MBA program, Miller's introduction to marketing came a few years earlier when an unexpected series of events found him with the title of Director of Marketing for a pro sports league. Miller came to realize that his McMaster BA in psychology and human rights was not enough for him to be successful. With several graduate school options to choose from, Miller chose to enroll in the co-op MBA program at the DeGroote School of Business.
"The co-op program gave me the opportunity to test-drive several careers a few months at a time," says Miller, "Other MBA grads I know have to rely on their first, second, or third jobs after graduation to find out what they don't want to do."
Miller's MBA took him through several marketing positions including stints at Corby Distilleries and Mars Inc. that eventually led to the role at Whiskas (a Mars Inc. brand), where he successfully overtook the market leader, Iams. Miller credits strong data collection and analysis that led to product refinements, and an innovative ad campaign, for the success of the brand.
"We knew that, in the minds of consumers, Whiskas tasted great and Iams was healthy," Miller explains, "that's what the data told us. We took that information and created a series of product lines for various feline life stages: kittens, older cats, active cats, etc."
The strategy worked – with the help of a memorable "Men Behaving Like Cats" ad campaign that is still available on YouTube.
Looking back on his career, Miller stresses the importance of soft skills in both the corporate and entrepreneur realms. When evaluating prospective employees and franchisees, Miller looks for four things: fit, innovation, drive, and anticipation. It is imperative, however, that they be able to market themselves, especially beyond the words they use. "So many times," Miller says, taking a page from Marshall McLuhan, "the medium is message."
Almost four years into his new adventure as co-owner of a restaurant chain, Miller is coy about what's next for The Works. There are still markets to expand into in Ontario, but he has prospective franchisees from across Canada and south of the border wanting a piece of the gourmet burger action.
One thing is clear: Bruce Miller does not sit on success and there will be more to this story in the years to come.
Bruce Miller, MBA '98, is Chief Marketing and Development Officer at the WORKS Gourmet Burger Bistro.