DeGroote Celebrates First Place at the McGill Retail Innovation Challenge
May 25, 2022
| Hamilton, ON
Contributed by Anthony Reis, Web and Marketing Specialist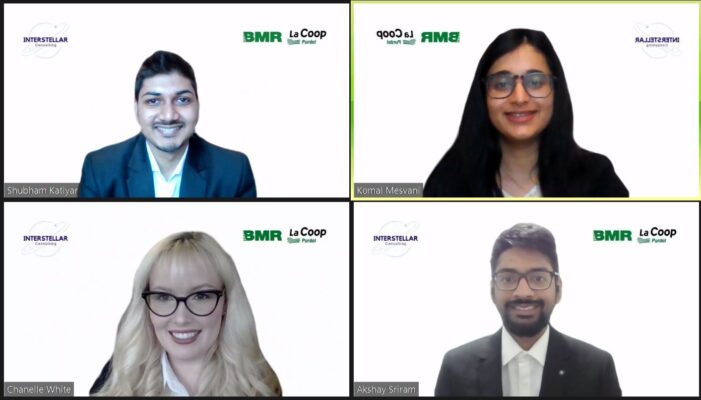 Shubham Katiyar, Chanelle White, Akshay Sriram, and Komal Mesvani celebrated their first prize win at the McGill Retail Innovation Challenge 2022 that took place from March 3-20. The DeGroote team, known as Interstellar Consulting, won a grand prize of $10,000 from the challenge. However, the team members also learned invaluable lessons from taking part in the case competition. 
"I feel it's very important for all students, no matter what they want to do in their career, to participate in case competitions because that gives you real life experience," says Shubham. "You will have a problem, you will have a team to work with, and it involves all the dynamics from your technical skills to your domain skills, to that collaboration, teamwork, and thinking out of the box."

---
The virtual case competition consisted of three phases over the course of three weeks, where teams took part in ideation, implementation planning, as well as business planning with local enterprises. Interstellar Consulting also worked with an external consultant to refine their solutions in the competition's finals. 
Case Competition History at DeGroote
The team's success is not an isolated event; out of the six finalists in the McGill Retail Innovation Challenge, four of the teams were represented by DeGroote students – three MBA, and one BCom. Additionally, DeGroote students have also seen major success in many other recent competitions, including the MBA Games, Danaher International Case Competition, and the DeGroote Innovative Solutions Competition.
"The organizers were like, 'I don't know what McMaster University has in their water, because you guys are something else,'" says Komal. Chanelle also added, "They said that twice! They couldn't believe it. They were so impressed with DeGroote."

---
Milena Head, Professor of Information Systems, worked closely with Interstellar Consulting and many other DeGroote teams. She is impressed with the skill sets, creativity, passion and work ethic these teams bring to case competitions.
"DeGroote has been highly active and highly successful in case competitions for 10+ years. Like most MBA students, our students are highly competitive. Our students are also passionate about engaging in experiential activities where they can represent their school and program. Importantly they are willing to take a risk and realize you can never succeed if you don't try. And success is not just about taking home a case competition trophy. Success is when you are scared and the challenge seems daunting, but you step up to the plate anyways. When you couple all of this with a structure that supports you in developing skills and confidence (through coursework and coaching) and easing financial barriers (through the DeGroote Experience Fund), that's when you get the 'something in the water' magic."

---
Celebrating Student Success
Aside from DeGroote fostering an environment of success for students, the participants in the McGill Retail Innovation Challenge as well as many other case competitions deserve recognition for their passion and drive for success in both their academic and professional careers. The level of dedication required as well as the drive to exceed limits is no small feat. Akshay comments on his personal inspiration in taking part in the McGill Retail Innovation Challenge: 
"I think when it comes to a competition itself, it's just the way you push yourself to reach a great goal, right? That is something that intrigued me to get into this competition. Because you're able to try a lot of things to push yourself outside the comfort zone for something that you really want to achieve."

---
Congratulations to Interstellar Consulting on taking home first place at the McGill Retail Innovation Challenge! Likewise, congratulations to the other three finalists who represented DeGroote. Continue to use your knowledge and collaboration skills to find success in future endeavours!