DeGroote's meaning of resilience
April 13, 2021
|
Contributed by Rebecca Hull, Marketing and Communications Strategist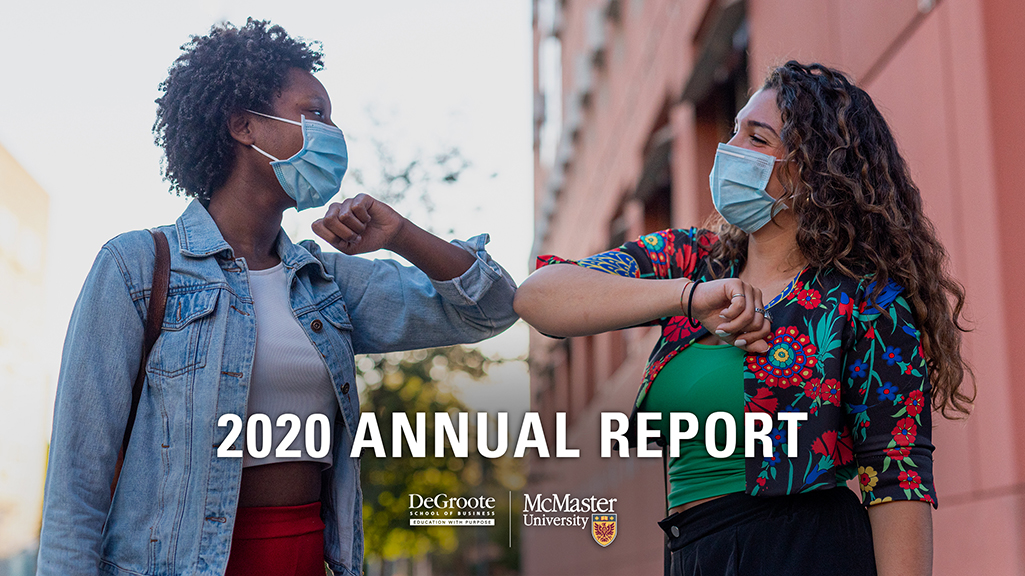 2020 taught the DeGroote community the meaning of resilience. Resilience refers to how well people can deal with and bounce back from the difficulties of life. Above all, it is about how a person responds to those challenges and the variety of effective tools they use to maximize their resiliency during these unprecedented times.
DeGroote's 2020 Annual Report tells the story of how our community adapted in 2020.
Eight ways to become more resilient
DeGroote weathered the unique challenges of this extraordinary year with generosity, leveraging our strengths in collaboration and innovation to support our students. As institutions and governments worldwide responded to the pandemic in the spring, DeGroote moved quickly to build world-class remote teaching and learning capabilities and focus our research and services where they might have the greatest impact.
While 2020 has brought forward several unanticipated societal challenges resulting from the pandemic, DeGroote researchers are conducting research that supports community resilience. We did this by expanding our collaborations across McMaster to increase our contributions to transform society. In addition, we enhanced our engagement with key stakeholders to ensure real-world impact while providing unique training opportunities for students and emerging scholars.
2020 will be the year we recall how fragile the modern world was. Also, it will serve as an important reminder that it was the year we looked to and truly lived DeGroote's values. It was the year that our community built resilience by acting with integrity, embracing change, and exploring new possibilities.
2020 sped up the need for greater investment and prioritization of technology. Driven by COVID-19 disruption, our EMBA candidates develop digital resilience by managing digital systems in the medical field. They use those systems to make data-driven decisions.
Doctoral candidate Jennifer Ho states that strong social connections decrease physiological stress levels, support emotional well-being, and provide practical support in managing challenging or threatening situations. The DeGroote community maintains an optimistic outlook by reframing setbacks and looking for the potential opportunities in uncertain or difficult situations.
People who evolve, expand, and learn will better survive adaptation. To gain a deeper understanding, individuals need to develop both the general knowledge and the confidence to ask the right questions, challenge the answers, and fully understand the digital economy.
Resilient people face life's difficulties head-on. 2020 reflects DeGroote faculty members' ability to tackle problems head-on and overcome adversity. Our staff and faculty worked together to navigate these challenges and create change through the positive societal impact.
Compassion and empathy are at the heart of resilient leadership. Resilient leaders such as Quentin Broad are genuine examples of how generosity affects positive change in the world and the DeGroote community.
Read more about the meaning of resilience for DeGroote's faculty, staff, and students in the
2020 Annual Report.