There's no such thing as free shipping
September 6, 2019
| Hamilton
Contributed by Sonia Verma, Manager, Strategic Communications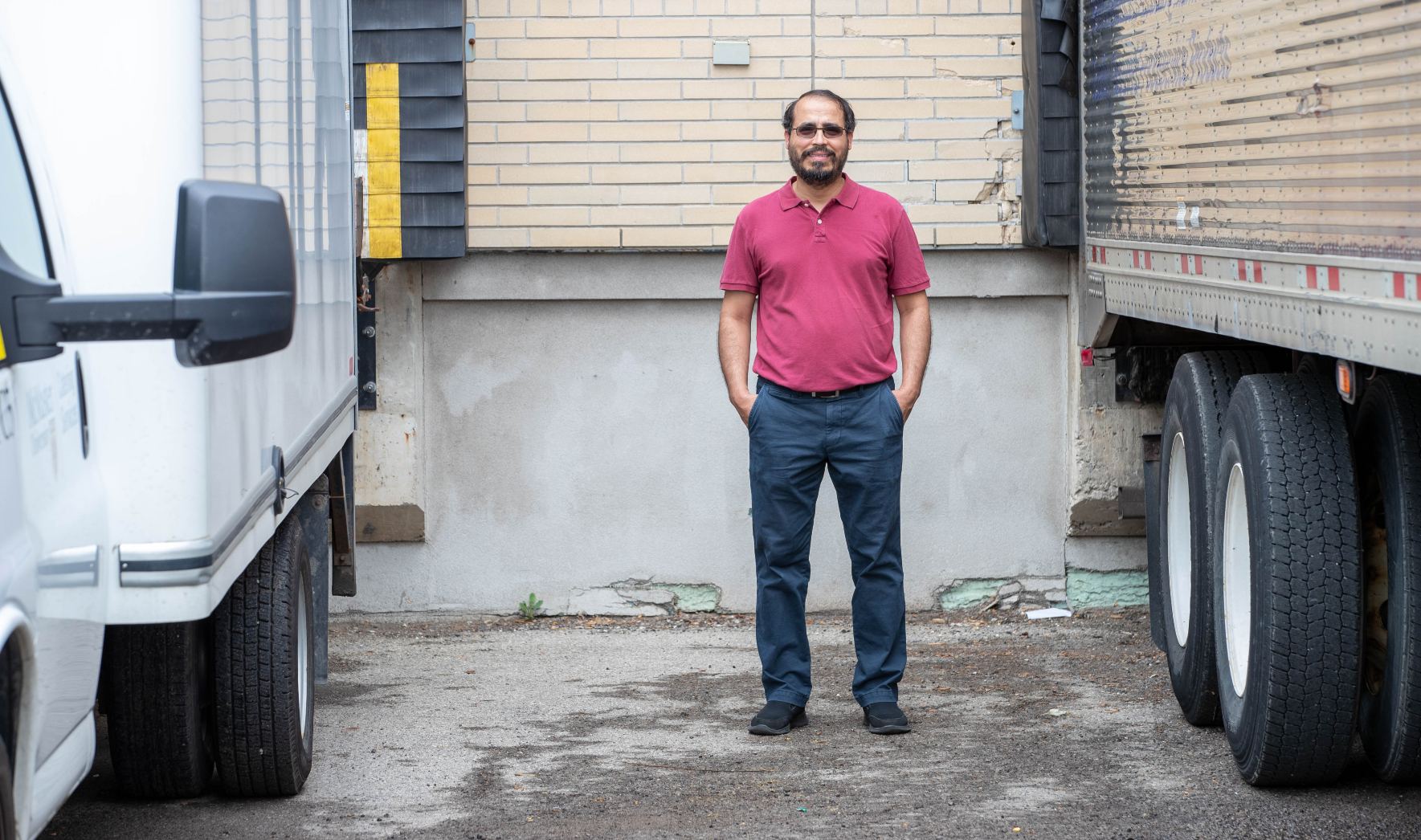 Elkafi Hassini is finding innovative ways to make ecommerce more efficient, greener and kinder on communities overrun by delivery trucks.
---
First, the bad news: Free shipping isn't actually free.
Consumers, communities and the environment often bear the true cost of online shopping in a surprising number of ways, says Elkafi Hassini, area chair of operations management at the DeGroote School of Business.
It's not just that shoppers sometimes pay higher prices.
Our communities also pay, financially and socially, as delivery trucks add to traffic congestion, road strain and safety concerns in residential neighbourhoods — most of which weren't built with a high volume of commercial traffic in mind.
There's the cost of the parking fines delivery trucks incur nearly every day in urban centres — a cost many companies directly pass on to consumers.
And there's the environmental cost of having more trucks on the roads as more and more people do their shopping online, while at the same time do not change their travel patterns to brick-and mortar stores.
Now for the good news: Since ecommerce is here to stay, Hassini is working on finding innovative ways to make ecommerce more efficient, as well as kinder on those affected by it.
"We're looking at ways to reconcile economic development and growth with sustainability and community well-being."
Hassini, a leading expert on supply chain management, says that triple bottom line is always at the heart of his work, and he's bringing the same focus to his new work on ecommerce.
He's the head of the new Smart Freight Centre at McMaster, where he and his team will study the impact of ecommerce on residents and businesses in the Region of Peel, one of the busiest transportation hubs in the country.
"Peel is very forward-thinking," Hassini says, noting the region proactively approached Mac and two other universities to start thinking strategically about ways to meet changing transportation needs and priorities.
"They see a lot of potential in ecommerce, and they want to improve and develop the economy of the region."
It's a good pre-emptive move to position the GTA as a strategic first mover, working on logistics and policy to broaden their horizons, Hassini says. "Then Peel can offer businesses unique opportunities to expand."
The Smart Freight Centre is part of a five-year partnership between McMaster, Peel, the University of Toronto and York University, exploring  how to improve the movement of goods and people.
The project also has the backing of several industry partners as well as support from the province and the federal government.
Hassini's role ties in with a two-year, $200,000 SSHRC Partnership Development Grant to study six "last-mile" aspects of ecommerce, which refers to the final stage of delivery, when a truck enters a neighbourhood.
Part of the project will involve surveying Peel residents to learn how they feel about the volume of delivery trucks on their neighbourhood streets — and sometimes on their lawns.
In addition to studying the impact of ecommerce on the environment, traffic, neighbourhoods and municipal infrastructure, Hassini will also explore alternative delivery practices, such as using drones or creating local microhubs where people can pick up their online shopping.
Meanwhile, his research collaborators from York and U of T will focus on studying off-peak delivery and dedicated truck lanes.
Hassini who started out as an industrial engineer, "at the intersection of engineering and business," says bringing together experts from multiple disciplines is the key to finding well-rounded solutions that satisfy the triple bottom line: improving financial, economic and social results.
At McMaster's Marketing and Supply Chain Analytics (MiSCAN) lab, where he is research director, Hassini's multidisciplinary team specializes in collaborative data-driven optimization of supply chain management for small and medium-sized enterprises.
He was also a founding member of McMaster's School of Computational Science & Engineering, and works with the Interface Institute, where he and his students study network risk management.
"Working with students and colleagues from other disciplines lets me see things from a different perspective than the one I have in business, or from engineering."
Working with people from other fields requires a lot of co-ordinating and isn't always easy, Hassini says. "But it's rewarding to see that work pay off when we are able to affect policy and ultimately make our communities easier to live in."
As first published on brighterworld.mcmaster.ca