"This is a different kind of learning": New course explores intersection of business and community
April 26, 2018
| Hamilton
Contributed by Erica Balch, Public Relations Manager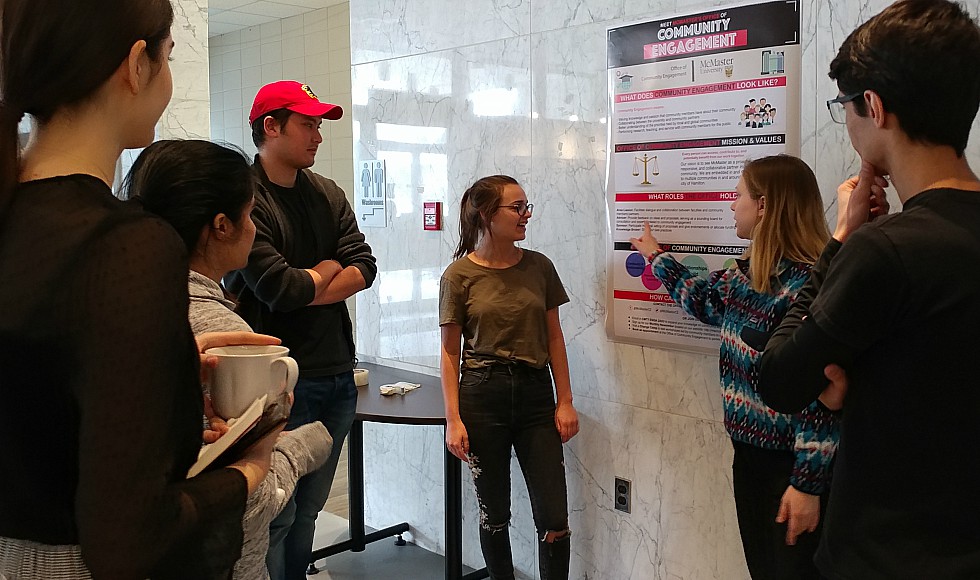 Students in the Integrated Business and Humanities (IBH) program have been meeting weekly in the CityLAB space in downtown Hamilton, as part of a new course aimed at exploring the connections between business and community.
---
The principles of community engagement and social innovation aren't topics that you would typically associate with a first-year business course, but then, IBH 1AD3 isn't your typical business course.
Part of the DeGroote School of Business and Faculty of Humanities Integrated Business and Humanities (IBH) program, the course is taking students out of the classroom and into the heart of Hamilton to explore the connections between business and community.
"This is a different kind of learning," says Karen Balcom, Associate Professor, History, and an instructor in the IBH program. Since January, Balcom has been holding classes weekly at CityLAB in downtown Hamilton and providing students with opportunities to learn about community engagement and social innovation from a business perspective.
Through a combination of instruction, community-based guest speakers, field trips, and projects, students have been learning about the concepts that underpin community engagement and social innovation, as well as about social enterprise and the business models used by community organizations.
Related: High achievers: McMaster welcoming first-ever Integrated Business and Humanities class
During the term, students heard from a diverse range of speakers from the Hamilton community and beyond, including Terry Cooke, CEO of the Hamilton Community Foundation; Lorraine Valmadrid and Melanie Walther from the (re) Imagine Project; Sandeep Raha, Associate Professor, Pediatrics, and Director of McMaster Children & Youth University; and Sue Carr, Executive Director of 541 Eatery & Exchange – a non-profit café on Barton Street East.
Students even traveled to Guelph to visit 10C, a social innovation incubator that provides co-working and events space for not-for-profit and social enterprises. 10C is financing the expansion of their space by issuing community investment bonds.
"In all these cases, we're talking about the social mission, but also the business case that supports the mission," explains Balcom. "How do they make the numbers work at 541? How does the Hamilton Community Foundation work, essentially as an investment bank, investing in the Hamilton Community? How do you finance social enterprise and community-driven social change?"
"For these students, that's their pathway in," she adds. "What's the business case for social investment and social entrepreneurship, and how do you make the numbers work in a sustainable way?"
Balcom says this kind of community-based approach has created a unique learning experience which has resonated with students, and resulted in high levels of participation and engagement.
IBH students Yael Morris and Inza Saqib agree, explaining that not only has the course provided them with insight into the financial inner-workings of social enterprise, it's helped them feel more connected to the community.
"It's a totally new way of learning," says Morris. "We're finding out how we can apply social innovation not just to business, but to our everyday lives so we can build relationships and interact with people in our communities."
"I'm a hardcore business student," says Saqib. "I had never paid attention to the humanities aspect of it before, but looking at the different organizations present in the community really helped me to see what's there and how we can help build a better community."
Emad Mohammad, Director, IBH program, and Associate Professor, Accounting and Financial Management Services, says helping students make these connections between business and society is one of the main purposes of the program.
"We want business to be a force for good in the community, so we want business leaders who care about their communities," says Mohammad. He adds that community engagement is one of the central pillars of the IBH program, along with a focus on leadership skills and entrepreneurship in the form of social enterprise.
"The skills they are learning in business are very valuable in the social enterprise universe where sometimes those skills may be lacking," he continues. "Those that work in charities, or who are engaged in meaningful causes may not have the acumen to run a business, or know how to raise funds, or make sure that it's sustainable in the long run. So as future leaders, these students have lot of potential to use their skills to do great good."
Community engagement is embedded in each year of the IBH program. Next year, students will travel to the Amazon in Ecuador with ME to WE to learn about international social enterprise. In their fourth year, students will complete a capstone project in collaboration with a community partner.
IBH 1AD3 was developed with the support of McMaster's Office of Community Engagement, and was modeled on Foundations of Community Engagement (CMTYENGA 2A03) – a second-year course offered to students from all disciplines which focuses on the basic theories and principles of community engagement.