Leading the way: Meet DeGroote valedictorian Mohit Verma
June 9, 2020
| Hamilton
Contributed by Sonia Verma, Manager, Strategic Communications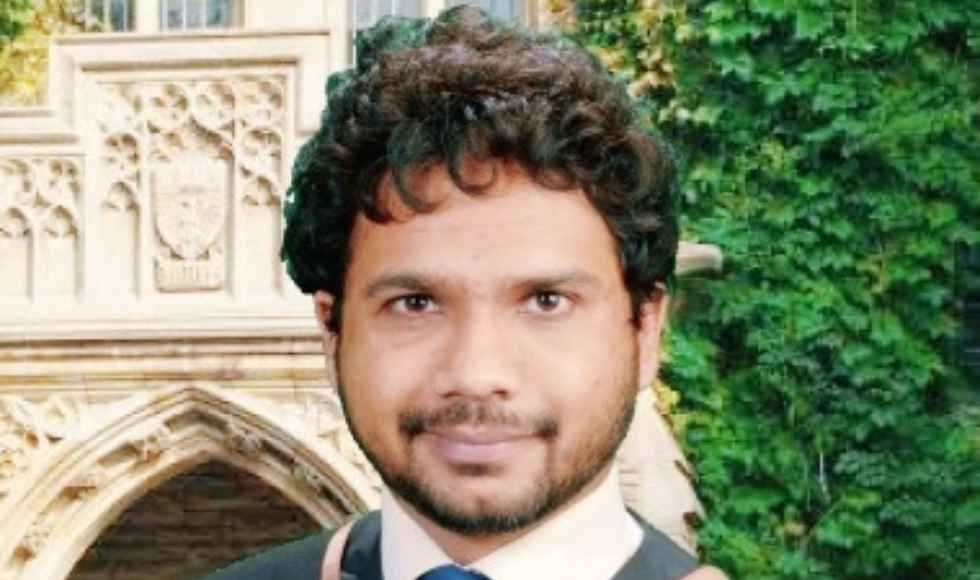 "McMaster provided me with a safe space to experiment, to fail, and to grow as a better individual." Meet Mohit Verma, the 2020 valedictorian for the DeGroote School of Business. 
---
Name
Mohit Verma.
Hometown
Nagpur, Maharashtra, India.
What is the degree and subject you pursued?
Masters of Business Administration (MBA), specializing in Accounting and Financial Management Services.
What made you choose McMaster for higher education?
Coming from a family business background, I have always been inclined towards knowing how a business runs. Also having a keen interest in exploring other parts of the world, different cultures, and getting a better understanding of global business policies I decided to pursue my MBA internationally. This is where McMaster, known for its rich heritage and diverse student community, came into the picture. I felt an instant connection with DeGroote, the faculty, the peers, the administration sharing their experience, helping you grow personally and professionally.
What will you be doing/see yourself doing after graduation?
I see myself moving forward in the consulting industry with a focus on the financial services sector, utilizing my technology expertise and expanding my skillset in the accounting and finance domain.
What would you say to your first-year self?
Make decisions by optimizing your regrets. If you think you will regret letting go of a certain opportunity, do it! Appreciate moments of accomplishment. Keep some time aside for yourself; self-care is underrated.
Do you have any advice for current and future students?
Your time at DeGroote will be one of the most fun and learning-intensive years of your life. So, take some time to rest and recover. You do not always have to be so busy, pushing yourself so hard. Step back and take care of yourself. Those moments of self-care will add value, energy, purpose, and creativity to everything you do. Find a healthy balance and enjoy your life.
How has McMaster shaped the person you are today?
McMaster taught me it is all right to feel vulnerable at times. When I came to DeGroote, I had the mindset to lead the alpha way. I realized everyone here is an aspiring leader and everyone has unique leadership styles. DeGroote helped me identify my leadership style. In the process, I made some mistakes and grew from those experiences. I got opportunities to explore interests both as a leader and as a volunteer, which helped me graduate a better leader and a better person.
What events did you enjoy the most at McMaster/in Hamilton?
I have been fortunate to be part of multiple events as both an organizer and a participant. Winning the Queen's Cup in 2019 and defending back in 2020 at McMaster is clearly one of the highlights of my journey. As part of the DeGroote MBAs for Impact club, I helped organize events such as Candy Gram, Bake Sale, Movie Night, Escape Room, and the Halloween Fashion Show to raise funds for non-profit organizations. One of the most fulfilling experiences for me was to organize Operation Christmas Child, allowing the students to come together, wrap gifts, and write personalized notes for children in need.
What is your definition of success?
To me, success is to be the best version of yourself while inspiring and motivating others in the process to be the best versions of themselves. I believe we are not here just to make money, survive, and die. Everyone has a purpose and must identify and work over it. To have the drive to be great at something, to obsess over it, willing to make the necessary sacrifices for it.
How has McMaster helped you create a Brighter World?
McMaster provided me with a safe space to experiment, to fail, and to grow as a better individual. When I joined the program, I was overwhelmed with the possibilities and talent around me. With the right mentorship and guidance, I found my way. I had the opportunity to do the same by designing the leadership program for current students and training senior year students to mentor and guide the incoming class as their seniors mentored them. I am confident the incoming class will continue the tradition of creating a brighter world for themselves and the community as a whole.
Who is your favourite professor?
Throughout my time at DeGroote, I had some amazing professors with great insights to share. If I have to pick one, it would be Professor Erin Reid. I took her 'Managing People in Organizations' course, and she inspired me to think from other's perspectives, managing myself, managing groups, and managing others. Her teachings helped me better understand my own past behavior and prepare me for future behavior as a member and a leader within an organization.
If you could have any superpower, what would it be?
Time travel. Seeing the time we are in now, Time travel would be useful to prevent/reduce the impact of COVID-19 and help improve international relations. Personally, I would like to use the superpower to see how my choices have different outcomes in the future.
If you could live anywhere in the world for a year, where would it be?
Home, definitely. Since coming to McMaster, I have not been to my native country. I would like to spend time with my family, eat home-cooked food, have road trips with my friends, and play basketball at my childhood court.
What have you been doing to self-care during the COVID-19 lockdown?
I have been reading more than I used to, mostly articles, news, and blogs on emerging technologies, politics, economy, and self-care. I'm currently reading 'The Mamba Mentality' for additional motivation and 'Poetry collection of Rumi' for inner peace. I continue to meditate daily for 10 minutes using the Headspace application. I'm doing bodyweight workouts at home, have included a stretching routine in my pre-workout, which boosts my mood, and feel energetic throughout the day. Continue to stay connected with my friends and family virtually, and enjoying the 'The Last Dance' documentary series.
What's the hardest part about working virtually for you? The easiest?
I was somewhat used to working virtually in the final term at DeGroote as team members had different classes and timings, so it would get tricky to meet in-person. The hardest part for me would be to match the energy when having team meetings virtually, now that everyone's routine is running at different times. The easiest part would be the convenience, I can manage tasks better, more location flexibility, and save my time and energy commuting.
What would you advise others as we transition to a new normal?
Stay patient. Although a few months back none of us could have anticipated the times we are in now, we can choose the see the positivity of this moment in time and focus on how to emerge from the crisis a stronger, better positioned and more valuable individual. Take this opportunity to connect with your friends and family. Be motivated for what has to come, we are all in this together.
While at Mac, did you receive donor-funded financial assistance (e.g., a scholarship, award, bursary)? Any thoughts on the importance of giving back to your alma mater to support future generations?
My team received an award for our accomplishments and contributions to the P719 (The Clinic – Innovation Lab) course. I strongly believe in giving back to one's alma mater, be it in the form of financial aid or mentoring the incoming classes. I am grateful for what McMaster/DeGroote has done for me and look forward to being involved in supporting future generations in any way possible.