Recognizing Teaching Excellence at DeGroote
January 13, 2023
| Hamilton, ON
Contributed by Joanna Williams, Marketing and Communications Strategist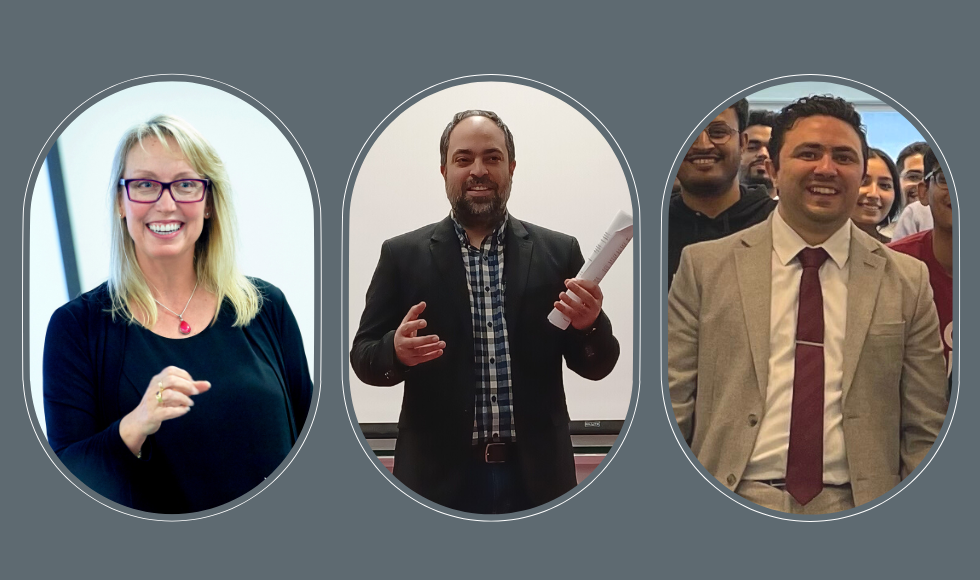 Congratulations to professor Milena Head and assistant professor Behrouz Bakhtiari for being selected as the 2022 recipients of the Dr. S. J. Basu Teaching Award. And special congratulations to sessional instructor Nour El Shamy for being the inaugural recipient of the Excellence in Equity, Diversity, and Inclusion Teaching Award.
Each year the MBA Association (MBAA) facilitates the Dr. S. J. Basu Teaching Award which is voted on by students and given to two professors or instructors teaching in the MBA Program. Recipients best reflect teaching excellence to foster the type of teaching displayed by Dr. Sanjoy Joe Basu. One award is given to a professor or instructor who taught a first-year course and one award is given to a professor or instructor who taught a second-year course. New this year is the Excellence in Equity, Diversity, and Inclusion Teaching Award, which is awarded in recognition of commitment to promoting an equitable and inclusive learning environment for all.
We sat down with Milena Head, Behrouz Bakhtiari and Nour El Shamy to find out more about their teaching styles and what these awards mean to them.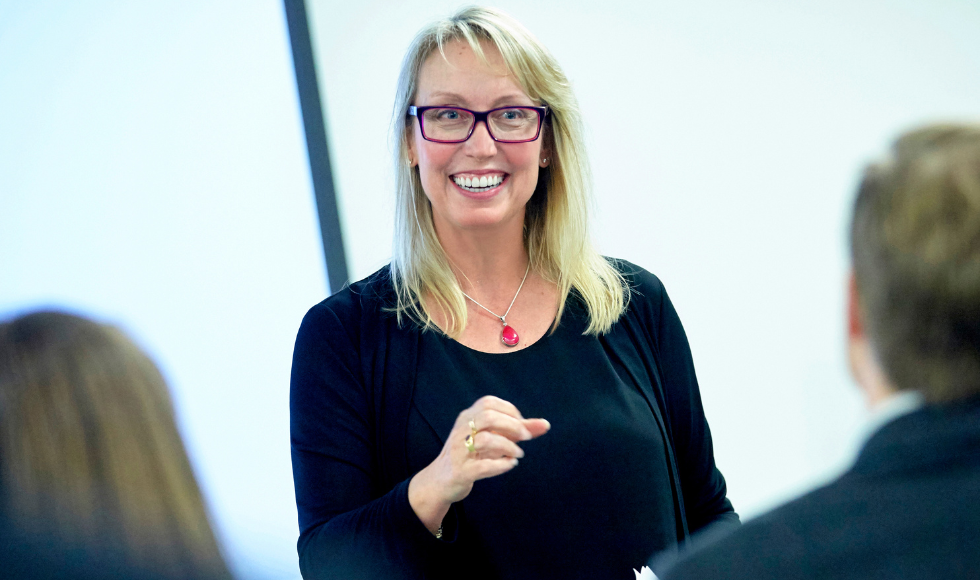 Dr. Milena Head, Professor, Information Systems
What excites you most about receiving this award?
What excites me and makes this so special to me is that it comes directly from the students. It really warms my heart to know that my students took the time to recognize the learning experience in my classes through this amazing honour.
How would you describe your teaching philosophy?
If I were to distill my approach and aspirations for teaching and learning into three words, they would be: experiential, multidisciplinary and transformative. For me teaching is a shared journey with my students. As an instructor, I strive to facilitate and inspire critical and multidisciplinary thinking and personal transformation in a collaborative and experiential environment. In turn, students continuously ignite my passion for teaching, mentorship and personal development through collaborative discovery.
How do you balance teaching and research?
I truly love both teaching and research for many of the same reasons. My research is highly collaborative, often involving students. I have had the opportunity to supervise over 50 students in their theses or graduate projects over the years. Sharing collaborative discovery journeys with my students is incredibly rewarding and expands my own learning and growth. As with my classroom students, I am passionate about transforming skills and confidence of my research students. This inspires me to always find the time for both teaching and research journeys with my students.
What do you want your classroom legacy to be?
 My most wonderful moments are when I hear from alumni that I taught years ago about a recent success and how the skills and confidence they gained through my classroom experience contributed to that success. For me, legacy is about making positive and lasting impact at an individual student level. I strive to be a positive guide for their futures.
---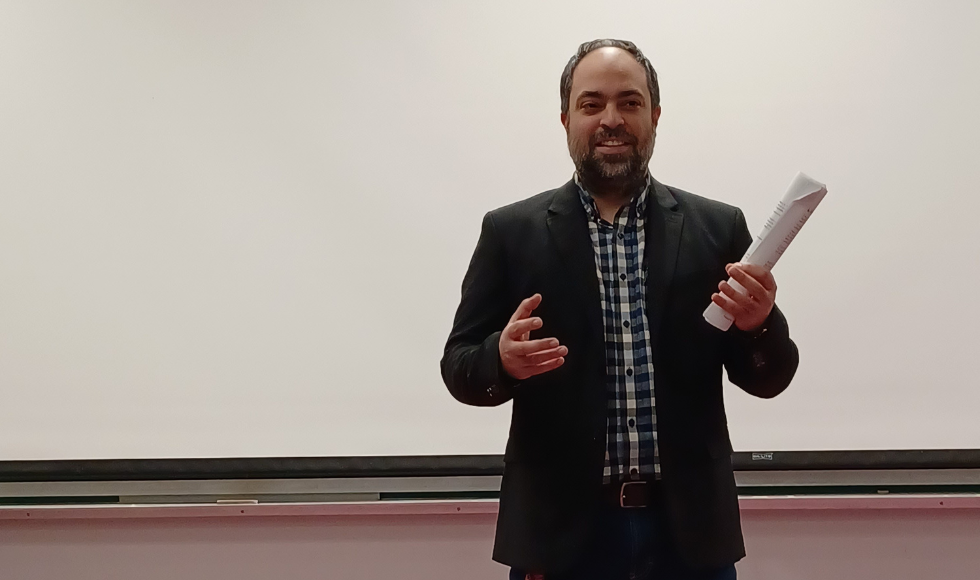 Behrouz Bakhtiari, Assistant Professor, Operations Management
What excites you most about receiving this award?
The Basu teaching award is a prestigious and sought-after award at DeGroote. To be recognized by my MBA students for this award is the ultimate honour after a very busy term, and I am deeply grateful to them for this award. I am particularly excited about receiving this award for teaching the Business Statistics course.
How would you describe your teaching philosophy?
My teaching philosophy can be described as active and experiential. I enjoy teaching best when my class is interactive and students actively engage with myself and the material through cases, discussions, hands-on experiences, etc. I am always trying to encourage students to take an active part in the learning process and to think critically about the course material. In my opinion, classrooms should be high-energy and exciting. Any topic, if delivered with passion and love, can have long-lasting positive impact on students. That is what teaching should be all about.
What do you want your classroom legacy to be?
I want my classroom legacy to be a legacy of student encouragement to take an active part in the learning process. I want my legacy to be that learning does not stop when the class or the term ends, and that we are here in the classroom not just to pass the course, but to become better equipped to make the world a better place for everybody through our knowledge and expertise.
---

Nour El Shamy, Sessional Instructor, Information Systems
What is your teaching philosophy and how does it influence your approach in the classroom?
Motivation, engagement, active learning, and critical thinking are at the core of my teaching philosophy. I strive to create a safe learning environment where students are encouraged to collaborate, ideate, formulate, and communicate strategies to tackle complex Digital Transformation and Information Systems challenges, from multidisciplinary and multicultural perspectives. I equally facilitate and stress the importance of challenging and defending ideas in a constructive, positive, and judgement free manner. Through managerial role-playing in simulations of real business cases using real data sets, I equip my students with a set of transferable theoretical and analytical skills that allows them to tackle complex real business challenges in a data-driven evidence-based systematic approach. My ultimate objective is to ensure that my students are capable of becoming the best Digital Transformation leaders of tomorrow, across industries and sectors.
Why is ensuring Equity, Diversity, and Inclusion in your classroom so important to you?
It's an incredible privilege to work with such a diverse cohort of students that converge from a rich variety of educational, professional, and cultural backgrounds. This diversity truly enriches our class discussions and allows everyone, myself included, to learn about and consider different and novel lenses of looking at and analyzing business challenges. Thus, it is extremely critical that the classroom is inclusive and that everyone feels welcome and safe to share their perspectives. Additionally, it is extremely important that all accessibility barriers, whether mental or physical, are identified and removed so that all students can equally contribute to our active learning environment to reach their full potential. This transcends my pedagogical approach in my courses and classroom to the course learning outcomes as well. I stress how critical it is to tackle biases and inequality in Information Systems practice in real business problems and demonstrate how Digital Transformation can otherwise be biased against different equity deserving groups.
What do you want your classroom legacy to be?
Nothing makes me more ecstatic than receiving a message from a current of former student requesting mentoring or expressing gratitude for teaching them a skill that they either introduced to, or are using at, their work. It is an incredible privilege to contribute to what makes our DeGroote students and alumni distinguished. I strive to inspire students to be their best and I feel an overwhelming sense of pride when they share their academic and professional success stories. I'm passionate about having an enduring positive learning experience and impact on my students, and I'd be extremely honoured to have that as my teaching legacy!
About the Dr. S.J. Basu Teaching Award
Sanjoy Joe Basu taught accounting at the DeGroote School of Business. He passed away in January 1983 at the age of 37. The Dr. S. J. Basu Teaching Award aims to foster the type of teaching excellence achieved by Dr. Basu. Friends, colleagues and accounting organizations also established the Basu Medal, which is awarded to a graduating student who has displayed outstanding achievement in accounting.