Kim Pho is employing a digital-first model in health care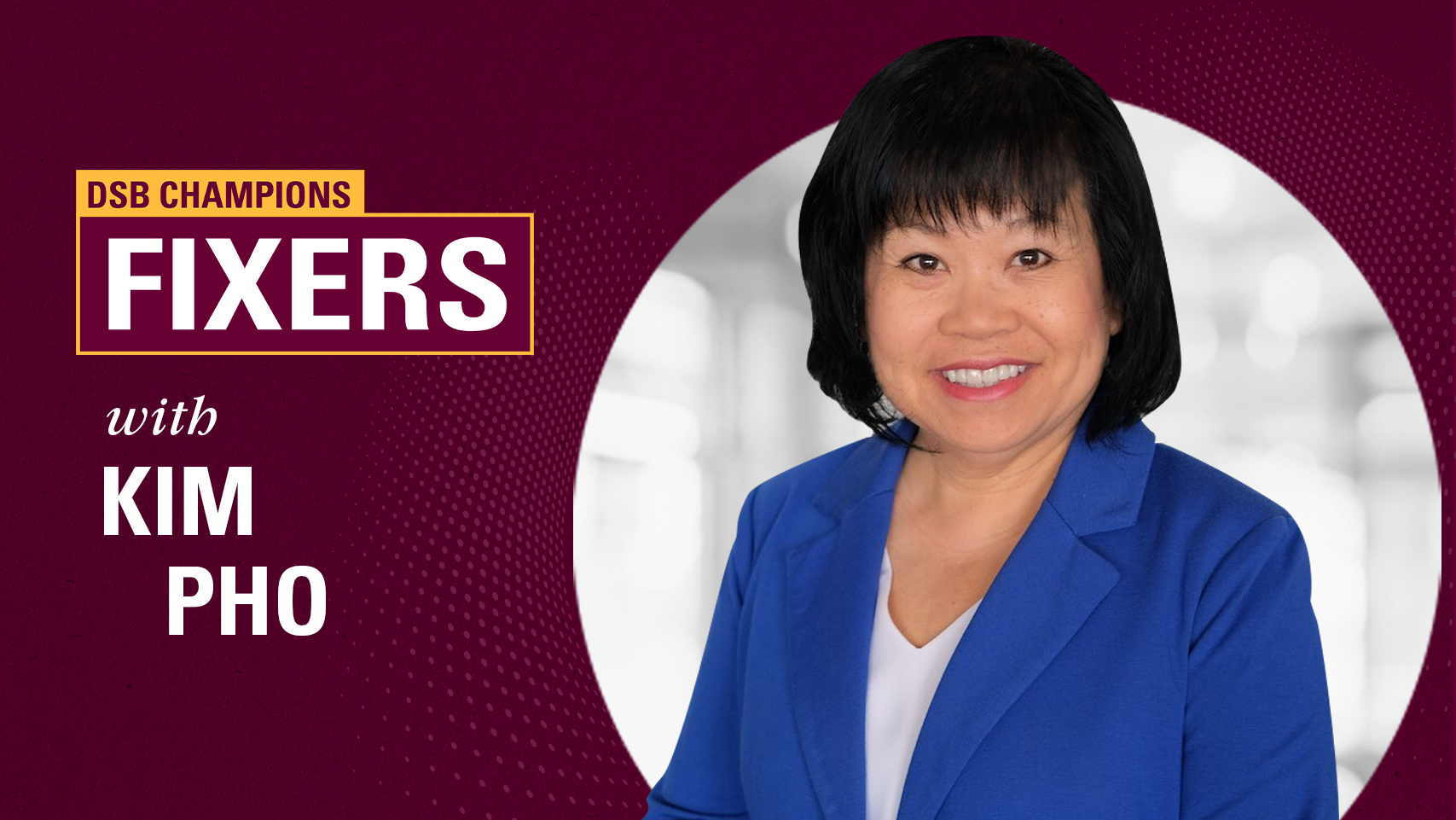 Kim Pho is constantly transforming. This transition — from an oncology pharmacist to a sales manager at pharmaceutical company Boehringer Ingelheim and an Executive MBA (EMBA) in Digital Transformation candidate — hasn't only changed Pho. Her work is positively changing the lives of others.
"I love my job and my team," says Pho, Boehringer Ingelheim's national specialty care sales manager. "We work in rare diseases. I am motivated to learn new things and come up with new ideas to optimize patient journey and help patients that are struggling and coping with their disease. The pandemic started in March 2020, and I started the EMBA program in July. So, the timing couldn't have been better. I was able to apply my learning right away."
Beginning her EMBA four months into the pandemic, Pho says she first applied her freshly acquired knowledge to determining what Boehringer Ingelheim needed to compete and excel in the new normal. She quickly followed this by using her learnings as a reminder to revisit customers' needs and their new pain points during and post-pandemic to develop new pain relievers.
"When it comes to business planning, the learnings on innovation and design thinking really helped me tease out our customers' pain points in the future of work," she says.
The future of work in pharmaceuticals
As COVID-19's impact on the world rapidly deepened, Pho observed the pandemic accelerate not only her company but the future of work in the global pharmaceutical industry. For example, with protocols restricting in-person sales, Boehringer Ingelheim moved from an outdated traditional sales model to a virtual environment.
Digital engagement is front and centre at my company," Pho says. "Boehringer Ingelheim had to quickly pivot and change our approach to customer engagement to completely virtual, and I was able to apply digital transformation."

---
Beyond her almost immediate impact in the transition to virtual customer engagement, Pho's use of digital technology improved long-term functions and processes. Her advanced business knowledge also plays a significant role in informing her daily task. She says the degree has afforded her the ability to better understand her colleagues who work in other departments, such as analytics, and allowed her to effectively tap into her own leadership abilities.
"I can, for example, ask more insightful data questions and what data I need to make the right decision," she says. "What I apply every day is the leadership skills that I gained. I work on improving my leadership capabilities so that I can support my team to develop and grow to be successful."
Global Excellence Award 2020
Pho's hard work and ability to incorporate digital transformation to benefit her company hasn't gone unnoticed. The 2020 recipient of Boehringer Ingelheim's Global Excellence Award, she was also recently recognized by the company's present and CEO. In a letter to Pho, Andrea Sambati noted her impact on Boehringer Ingelheim and on her team.
"You have built an inclusive and trusted environment that allows your team to grow exponentially," says Sambati to Pho. "You are a true champion … for your enthusiastic application of learning from your EMBA in Digital Transformation. You continuously lead and coach the field team to incorporate an omni-channel mindset into new ways of working to support customer centricity. As a result, (your team) is leading the way for digital engagement."
That positive impact also extends well beyond Pho's company. With an interest in finding virtual diagnosis and monitoring solutions for interstitial lung disease (ILD) patients, Pho constantly strives to discover new ways to optimize the ILD patient pathway in what she calls the new world. All the challenging and rapid digital transformation changes, she says, are valuable.
It's all worthwhile when our company can make a difference in the lives of our customers and our patients, when we receive letters from patients thanking us for providing them with effective treatment.

---