Lean in and get involved: Meet DeGroote valedictorian Sophie Ochocinski
June 11, 2019
| Hamilton
Contributed by Sarah Janes, Communications Coordinator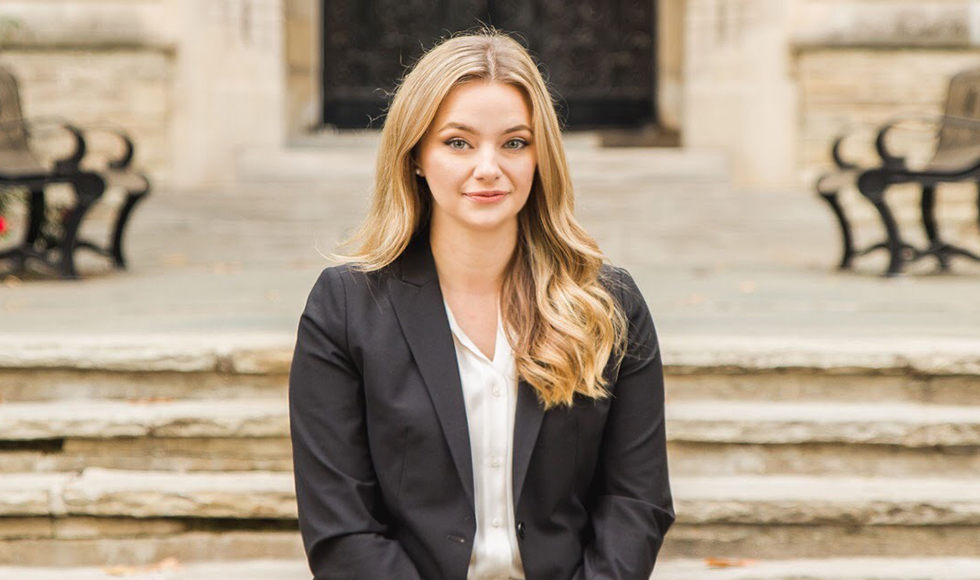 "The McMaster community has contributed immensely to who I am today. The university's commitment to valuing inclusivity has made me more aware of the issues facing today's world." Meet Sophie Ochocinski, valedictorian at the June 11 afternoon convocation for the DeGroote School of Business. She'll be working at TD Bank in Toronto as an associate in their CPA Pre-Approved Associate program.
---
Name
Sophie Ochocinski.
Hometown
Brooklin, Ontario.
What is the degree and subject you pursued?
Honors Bachelor of Commerce, with a specialization in accounting.
What made you choose McMaster for higher education?
I chose McMaster for its highly prestigious reputation and standing as one of Canada's best universities. I wanted to move to a new city but one that wasn't too far from home. I toured the campus with my mom and immediately fell in love with the atmosphere. McMaster just seemed like the perfect fit.
What will you be doing/see yourself doing after graduation?
I'll be working at TD Bank in Toronto as an associate in their CPA Pre-Approved Associate program. After I gain my accounting designation, I hope to work abroad in the near future.
What would you say to your first-year self?
Dear first-year self, you're doing just fine. You may feel discouraged and questioning yourself way too much. But keep trying and studying and I promise you'll figure this whole university thing out. Also, stop spending your entire meal plan on Starbucks.
Do you have any advice for current and future students?
For the first two years I was at McMaster, I was very shy and intimidated by my perception of "university." I was so worried about what others thought that I kept myself from meeting new people, joining clubs, and trying out for things. It wasn't until I was pushed into becoming involved by some very good friends of mine that I started to gain more confidence. My advice to current and future students is to not let anyone, and especially not yourself, stop you from going after things. Continue believing in your abilities and surround yourself with people that help you grow. I really encourage you to become involved within the community. It can be done through your faculty, McMaster, or in Hamilton. You learn a lot about yourself while meeting new people and enjoying experiences within your years here.
How has McMaster shaped the person you are today?
The McMaster community has contributed immensely to who I am today. The university's commitment to valuing inclusivity has made me more aware of the issues facing today's world. My faculty and professors have contributed to my passion for learning, while increasing my interests in accounting and public speaking. I'm grateful for the lifelong friendships I've made with the students at McMaster. They've taught me resiliency and sincerity. Most importantly, McMaster has helped me get closer to figuring out who I am and who I want to be.
What events did you enjoy the most at McMaster/in Hamilton?
My favourite events at McMaster have been Welcome Week, Light Up the Night, and Homecoming. The MSU and the Alumni Association has done a remarkable job in creating a unique experience for its students.
What is your definition of success?
For me, I think you're successful when you're always learning and always growing. The people I look up to the most have found success in a balance between their jobs, relationships, and giving back to others.
How has McMaster helped you create a Brighter World?
McMaster, along with DeGroote faculty, clubs, and committees, has helped me to give back to the world. In my undergrad I was elected for a seat on the MSU's Student Representative Assembly. Along with the support of my caucus and the DeGroote Commerce Society, we piloted Platters & Chatters. The event still continues today and is a way to connect our faculty and students. I was also fortunate to be a part of JDCC DeGroote for the past two years. It is the largest business case competition in Canada that requires students to train almost a year before. One of our teams' requirements is to volunteer within the Hamilton community during the fall semester. JDCC DeGroote has made an impact on so many families and charity initiatives. We have also launched an Incubator program, providing students with lectures and mock case competitions to improve their case and presentation skills. Without the support of my faculty, committee, and club members, none of this would have been possible.
What motivates you to work hard?
My family, specifically my parents have always motivated me to work hard. They provided my three siblings and I with endless opportunities often putting us first instead of themselves. In September, my father passed away from an extremely unexpected and short battle with cancer. It's been unimaginably difficult for my family. I've seen my mom have her whole world turned upside down, but never stopping and always working to keep us going and provide for our family. I hope to honor my father's name and make both my parents proud with everything I set out to do.
If you could have any superpower, what would it be?
I'd love to be able to time travel but, in a way, that I can only see myself in the past. I think it would be really special to revisit moments in my life that impacted who I am today.
Who is your favourite professor?
My favourite professors are by far Linda Stockton and François Neville. I've had the opportunity to work with them through this year's JDCC DeGroote team. They are beyond supportive, donating hundreds of hours outside their classrooms to develop student's case knowledge and presentation skills. They even volunteered their weekends and evenings, sometimes as late as 11 p.m., throughout the summer and school year. I'm forever grateful for their generosity and the impact their leadership has made within DeGroote.
In terms of my specialization, I really enjoyed Sue McCracken's Commerce 4AD3 class. She made learning about audit very interactive and interesting. I've also enjoyed taking classes with Kevin Veenstra. I've never learned so much about accounting before. He challenges students to apply their knowledge and think outside of the box. It makes the classes he teaches even more rewarding.
What book are you currently reading?
I'm currently reading Lean In by Sheryl Sandberg. I love it so far.
While at Mac, did you receive donor-funded financial assistance (e.g., a scholarship, award, bursary)? Any thoughts on the importance of giving back to your alma mater to support future generations?
I was fortunate to receive an entrance bursary as well the University (Senate) Scholarship in my upper undergraduate years. No matter the financial amount, any support provided to students goes a long way. I believe it's very important to continue to give back to McMaster. As students, we wouldn't have been granted so many experiences if it weren't for previous Marauders and their donations. When you donate to your alma mater, you're investing in the students and providing a legacy for future generations. I'm looking forward to continuing to be involved in McMaster's history upon graduation.