Days of Life with Chloe Asselstine

Chloe's Days of Life review of her first year at DeGroote is all about community, making a difference, and changing the world
Describe acts of generosity you have observed throughout your days of life at DeGroote.
When making my decision last May about which university to attend, I wanted to learn more about their school culture. Each university spoke about its school culture differently. It was the community spirit that drew me to McMaster. Everyone raved about the community and supportive nature of the Bachelor of Commerce Program. Every DeGroote student I talked to said the same thing – the DeGroote community is the best. No one ever defined or explained the meaning of community at the other universities.
Now I understand that students aren't the only ones who make up the School community. The support staff, teaching assistants, professors, and advisors who work with every student are part of that community, too. Having just completed my first year, I can say that this community was there by my side, generously offering support to help students like me. The faculty and staff are so passionate about helping students succeed. For example, my professors and teaching assistants set up personal Zoom calls and replied to emails on the weekends. They were so willing to improve the student experience during the pandemic, which I will forever be grateful for. There is never a shortage of students who want to help others when they need it most.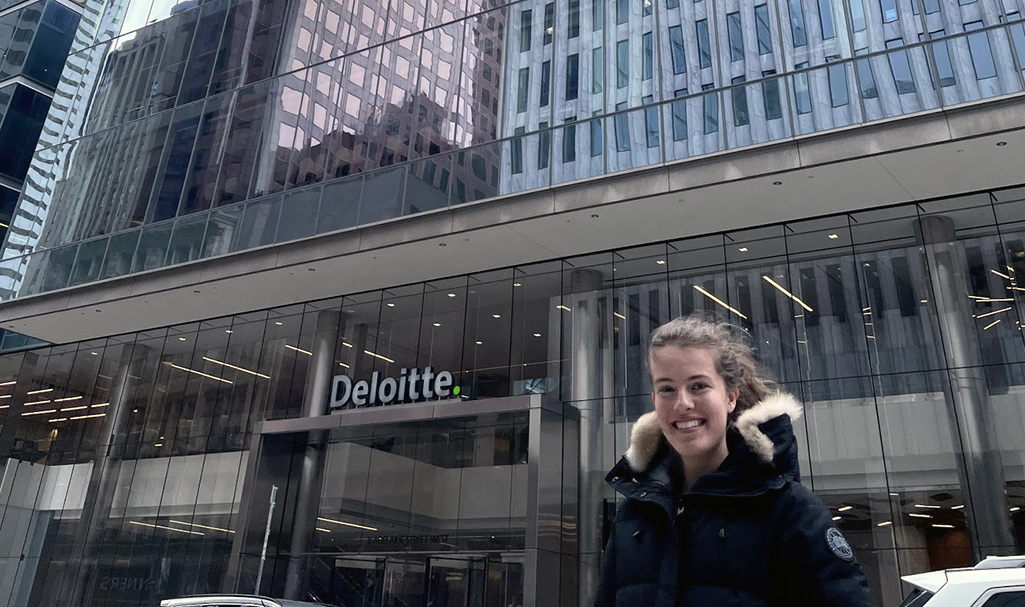 What does education with a purpose mean to you in your days of life?
Education with a purpose can mean many things to different people. To me, education with a purpose means that the educational institution one attends prepares and qualifies them to work to successfully integrate themselves into society to contribute to the greater good. DeGroote has done an exceptional job of providing education with a purpose through my first year. The School teaches students how to apply real-world knowledge to business concepts. Many students create and build successful businesses and set ambitious goals throughout their degree using the information learned. DeGroote often has alumni speak to current students about integrating what they learned throughout their degree to benefit them in the business world. As well, they offer exchange and internship programs that help enrich students' learning. Ultimately, this helps ensure current students and alumni reach their full potential throughout their degree and beyond.
Describe how you plan to make a difference in your days of life at DeGroote.
Throughout my time at DeGroote, I hope to hold several executive positions. I want to use my knowledge and experience to help others accomplish their academic and career goals. I want to have an impact at McMaster campus-wide. To demonstrate my passion for volunteering, I received the Lieutenant Governor General Award late last year.
I have recently accepted Director of Corporate Relations for DeGroote Finance and Investment Council, where I intend to connect alumni and recruiters with students. Many students struggle with networking. As a result, I have taken on the initiative to help set up and run events specifically related to networking in different fields of business. With this in mind, these events will help many students learn more about potential career paths. They will have more opportunities to network with those who work in the industry. I hope to work with my peers so we can all improve and accomplish our goals together. By doing so, I intend to make a lasting impact and difference for current students and future students.
Cite one thing that's made you feel rooted in the last few days/months of your life.
Undoubtedly, all of us go through times when we feel stressed or overwhelmed. Still, there is always hope and clarity available to help keep us all rooted. After my mum was diagnosed with brain cancer in October of 2020, I had created a fundraiser to raise $4,000 throughout 2021 for brain cancer research called Nicole's Army. Using the skills I have learned throughout my first year at DeGroote, I have created my first merchandiser business. I raised $30,000 in only two months. I have increased my goal to raise $40,000 throughout 2021.
Working towards and being able to scale my fundraiser to the size it has become has to help me through stressful times and has kept me grounded. Through receiving an education with a purpose from DeGroote, I have gained the knowledge and confidence to promote, organize, and scale the fundraiser to become what it has become today. As a result, I have also received large corporate sponsorships from the National Hockey League and Scotia Wealth Management. I enjoy volunteering my time to improve the prognosis and treatment for brain cancer patients. I am grateful to the faculty at DeGroote for aiding students to learn practical skills needed to be successful in the business world and with my fundraiser.

What is the one thing you'd most like to change about the world?
If I could change one thing about the world, I would want to change how people think about their careers. Many assume that workers must follow the traditional employment mentality to work long-term and full-time to experience career growth. As the economy begins to shift, I think it is essential for people to continue learning and exploring new interests at work. Many large companies adapt to customers' unique needs and wants, and employees must change to keep up with their demands.
In February, I signed to work with Deloitte this summer as a Quality and Risk Analyst. From the start, Deloitte has allowed me and other interns to develop interests, work with those from other departments, and continue our learning to ensure employee satisfaction and efficiency in the workplace. Above all, I feel a lot more engaged and excited to work every day since so many opportunities to learn are available to me.